How & why Krishna married Ashta Mahishi (8 wives) | Why did Krishna marry wives? | Why did Krishna marry Jambavati?
Namaste friends, how are you doing today? Welcome to #BhagavanBhakthi website / blog.
Bhagavan Lord Sri Vishnu (Krishna, Rama, Trivikrama, Narasimha, Vamana, Vasudeva, Mukunda) and Goddess Lakshmi (Rukmini, Satyabhama, Sita, Kamala, Maya) blessings to you and your family!
In this website / blog, you will always learn about #Hinduism #Sanskrit language.
Also subscribe to my YouTube channel from this link #BhagavanBhakthi to view videos about #Hinduism #Sanskrit language.
Just before going to "How & why Krishna married Ashta Mahishi (8 wives) | Why did Krishna marry wives? | Why did Krishna marry Jambavati?", let us have a brief some brief information.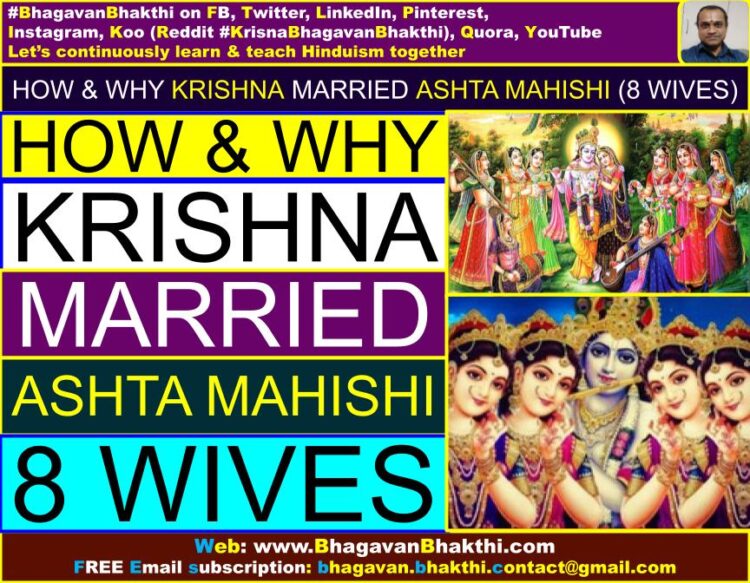 Lord Krishna is called as 'atma kaama'. This means, he doesn't needs anyone or anything which will make him happy. He is svayam (self) satisfied.
As per his earlier promises, in Dwapara Yuga, Lord Krishna marries 8 + 16,100 = 16,108 divine women. In that, let us know the stories of 'ashta bharya' or 'ashta mahishis' (first 8 divine consorts) marriage with Lord Krishna.
Below given are the details about "How & why Krishna married Ashta Mahishi (8 wives) | Why did Krishna marry wives? | Why did Krishna marry Jambavati?":
Neeladevi (Nagnajiti) – She is one of the 'Ashta mahishis' or 'ashta bharya' (8 divine consorts). She is the daughter of Yashoda Devi's brother Nagnajit and thus the name Nagnajiti (Daughter of Nagnajit).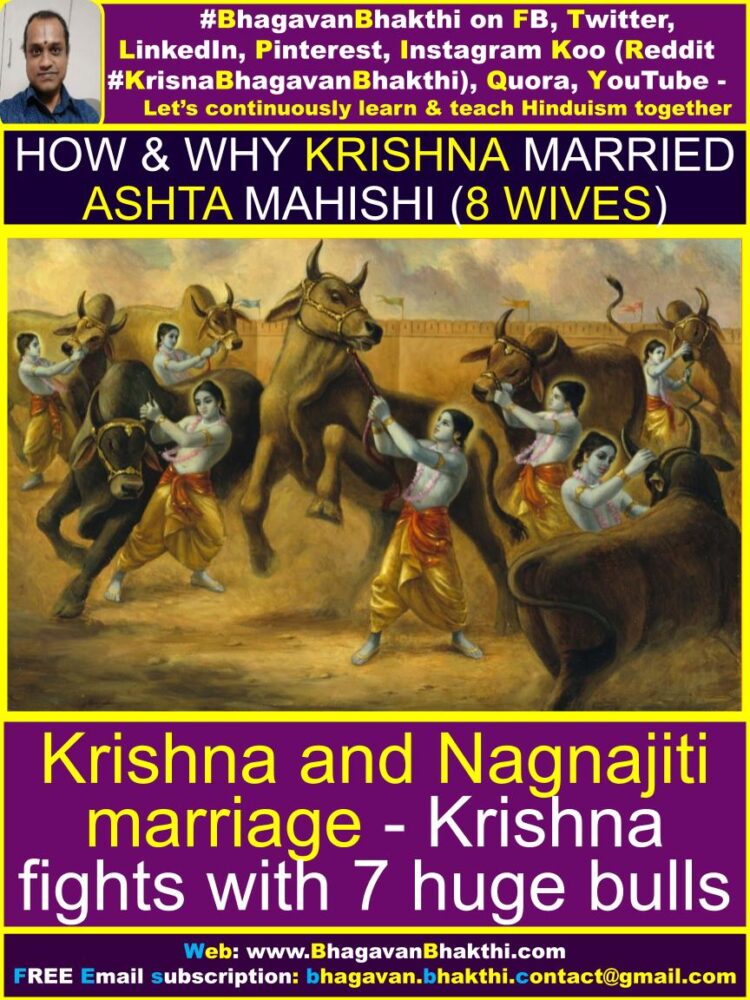 Nagnajit had organized 'swayamvar' for his daughter's divine wedding. Accordingly, Lord Krishna married Neeladevi by defeating seven big bulls. At that time, he was not yet completed his 'upanayanam' (yagnopaveetam) also (wearing Janeu).
Lord Krishna and Neeladevi's sons – Veera, Chandra, Ashwasena, Chitragu, Vegavaan, Vriksha, Aama, Shanku, Vasu and Kunti
Rukmini Devi – She is the divine daughter of Bhishmaka, the ruler of Vidarbha. She is an avatar of Sri Maha Lakshmi Devi. Rukmini is also called as Bhaishmi, as she is the daughter of Bhishmaka.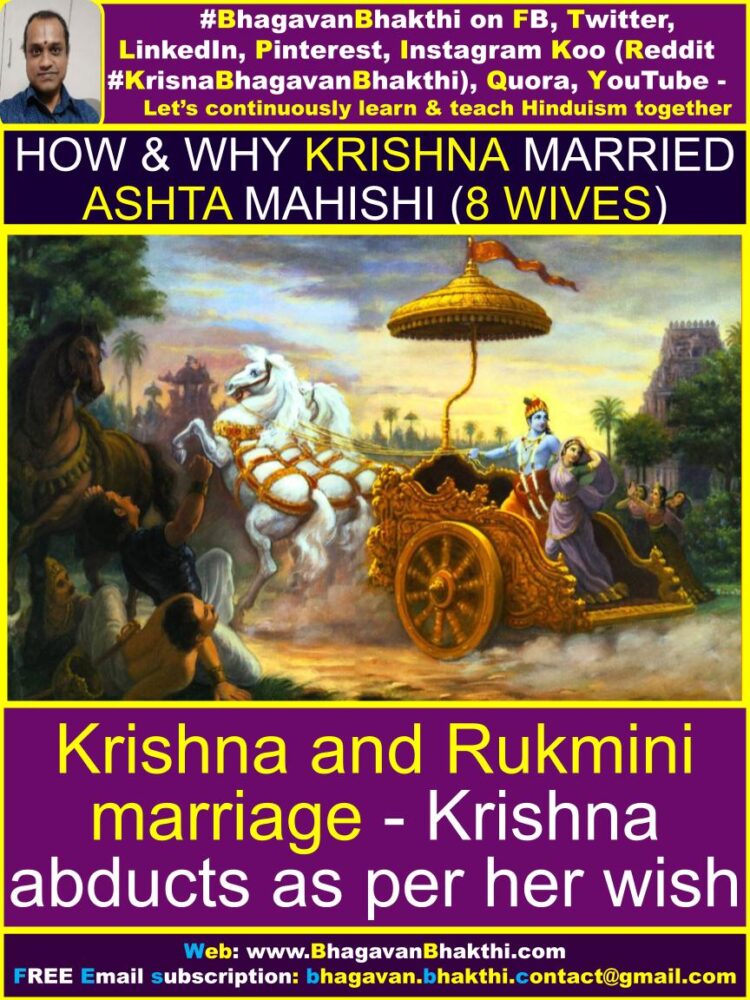 Rukmini Devi's brother Rukmi decides to marry her (Rukmini) to Shishupala as per the wishes of his friend Jarasandha. But was not at all as per the wishes by Bhishmaka.
But at the request of Rukmini Devi, Lord Krishna comes and kidnaps Rukmini, takes her to Dwarka and marries her.
Lord Krishna and Rukmini Devi's sons – Pradyumna (avatar of Kamadeva), Charudeshna (avatar of Lord Ganesh), Sudheshna, Charudeha, Sucharu, Charugupta, Charuchandra, Vicharu, Bhadracharu, Charumati.
Jambavati Devi – Lord Krishna sets out to find divine 'Shyamantaka mani', which Satrajita (Sri Satyabhama Devi's father) had lost and had blamed Lord Krishna for this. Jambavati Devi is an avatar of Tulasi Devi.
For this reason, Lord Krishna immediately starts in search of that divine 'Shyamantaka mani. (Jambavati Devi is the daughter of Jambavan and thus the name Jambavati.)
Lord Krishna enters the cave of Jambavan and fights with him for 21 days. Lord Krishna shows his another avatar of Lord Rama to Jambavan and gets marries to Jambavan's divine daughter Jambavati Devi.
Lord Krishna and Jambavati Devi's children – Samba, Sumitra, Purujit, Shatajit, Sahasrajit, Vijaya, Chitraketu, Vasumana, Dravida, Kratu.
Satyabhama Devi – After the above episode, Jambavan returns the divine 'shyamantaka mani' to Lord Sri Krishna. (Satyabhama is the daughter of Satrajit or Satrajita.)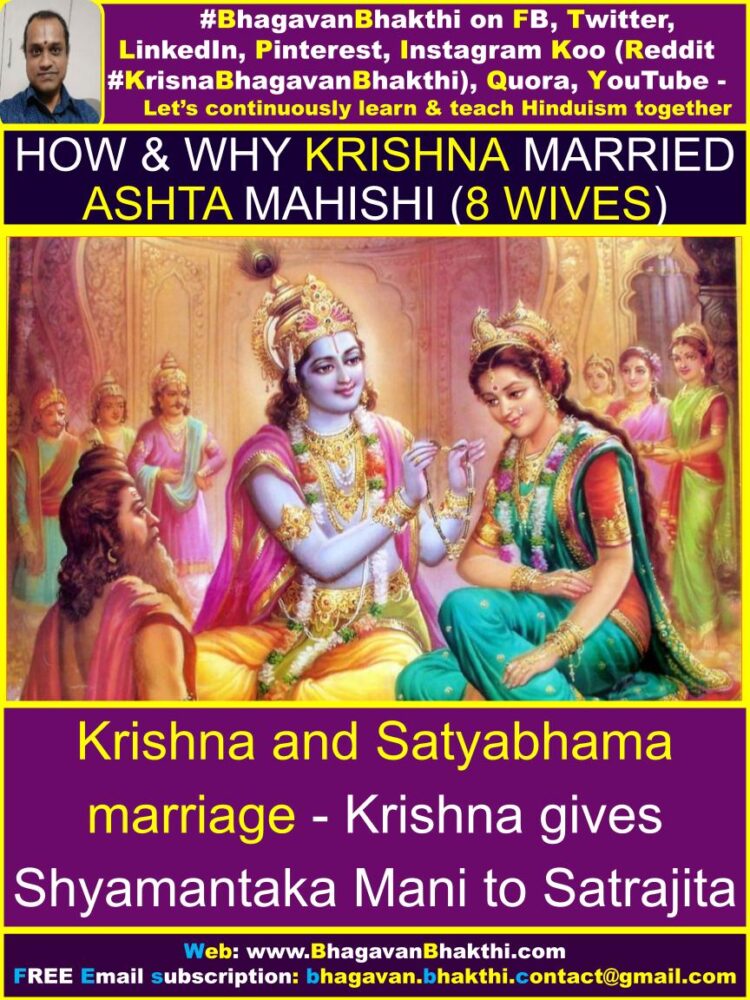 Thus, Satrajita, who regrets his mistake, marries Satyabhama Devi to Lord Krishna.
Lord Krishna and Satyabhama Devi children – Bhanu, Subhanu, Swarbhanu, Prabhunu, Bhanuman, Chandrabhanu, Bruhadbhanu, Athibhanu, Sribhanu.
Mitravinda Devi – She was the daughter of Jayasena, king of the Avanti. The Srimad Bhagavata Purana describes her as having two brothers, Vinda (Vindhya) and Anuvinda (Anuvindhya), who also ruled Avanti as regents during their marriage.
They were companions of Kaurava leader Duryodhana. So, Mitravinda was opposed to the idea of marrying Lord Sri Krishna as he was allied with the Pandavas, sons of Kunti and rivals of the Kauravas.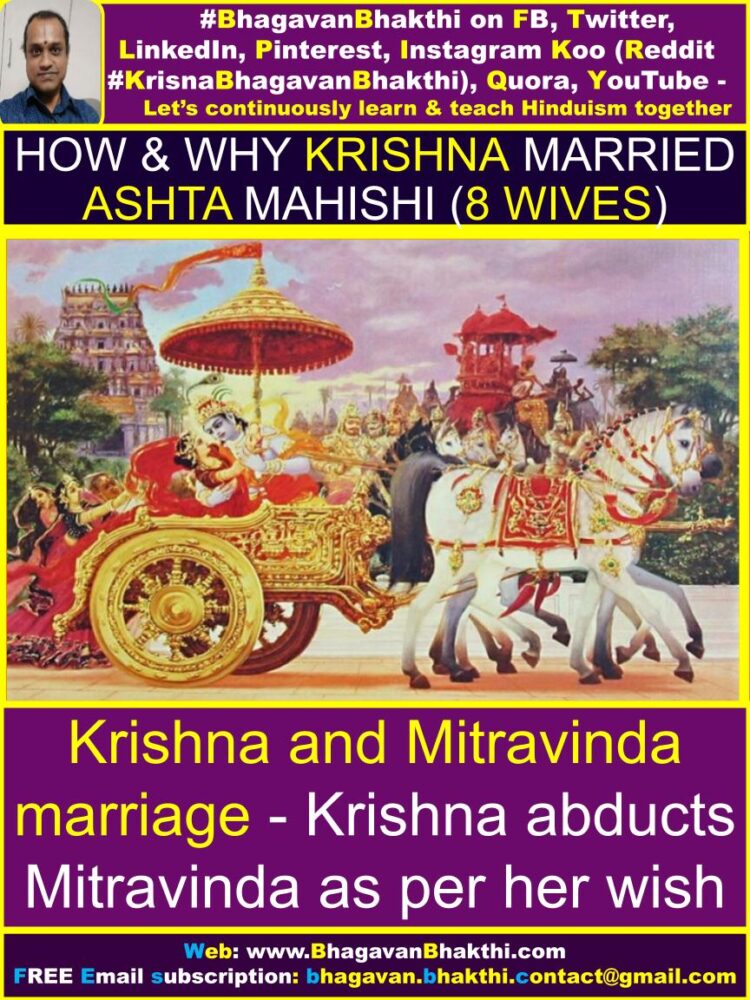 Jayasena's wife Rajadevi was the sister of Vasudeva (father of Lord Krishna.) Mitravinda Devi's brothers Vinda and Anuvinda organizes the divine swayamvar of their divine sister.
Lord Sri Krishna and Balarama were not invited. But Duryodhana will be invited. Balarama tells Lord Sri Krishna to kidnap Mitravinda Devi. Lord Krishna fights the battle and kidnaps Mitravinda Devi as per her wishes and gets married to her.
Lord Krishna and Mitravinda Devi children – Vruka, Harsha, Anila, Grudhra, Vardhana, Unnada, Mahasha, Paavana, Vanhi and Kshudhi
Bhadra Devi – She is the daughter of Vasudeva's sister Shrutakirti (mother) and Drishtaketu (father).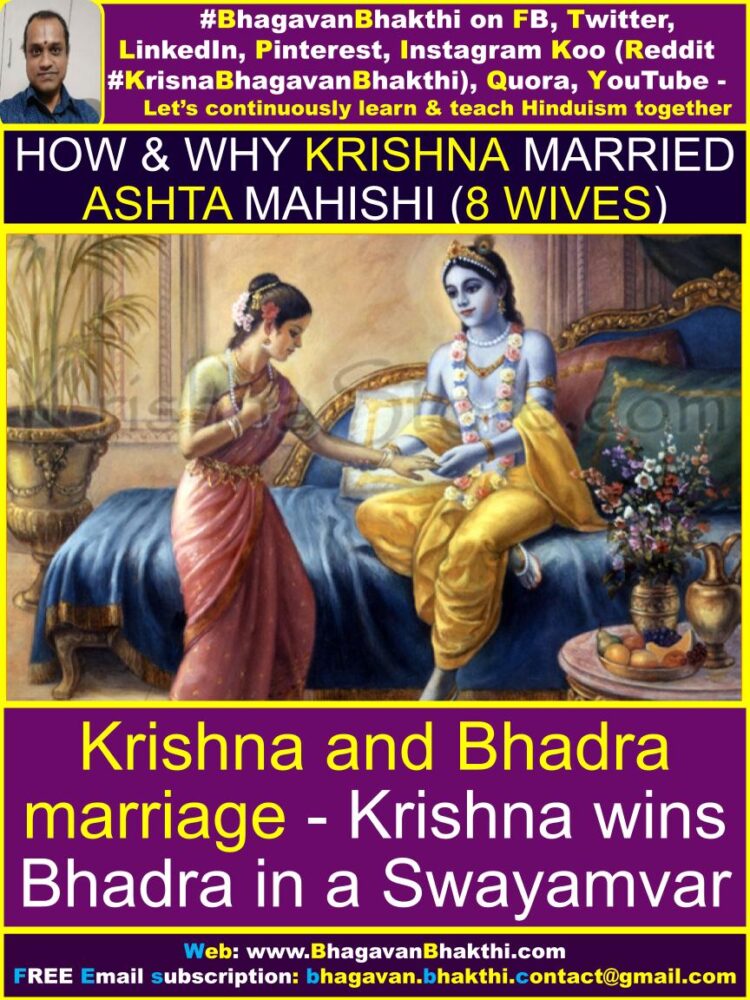 Lord Krishna gets married to her in a divine swayamvar which was organised by Drishtaketu (father) and Santardana (brother).
Lord Krishna and Bhadra Devi children – Sangramjit, Bruhatsena, Shura, Praharana, Arijit, Jaya, Subhadra, Vaama, Aayu, Satyaka.
Kalindi Devi – She is the daughter of Lord Surya Deva (Sun God). Once, when Lord Sri Krishna and Arjuna went on vacation, there Lord Sri Krishna sees Kalindi Devi.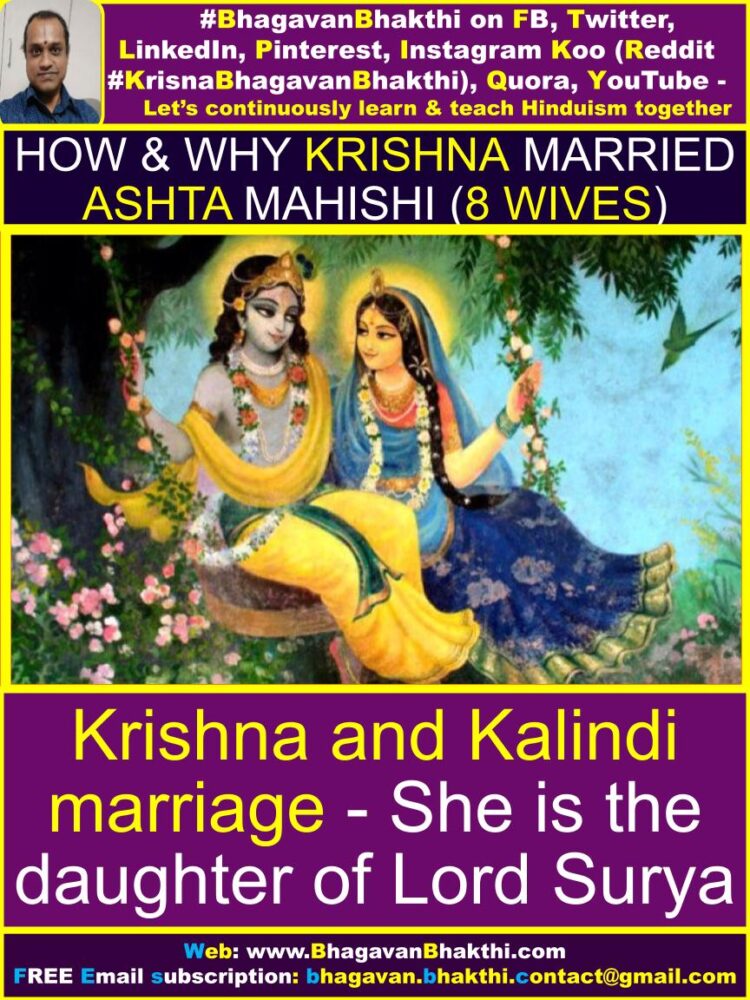 After asking her who she likes to get married, she informs that, she will not marry anyone other than Lord Sri Krishna. She says, she is doing divine 'tapas' (penance) to get marriage with Lord Sri Krishna.
Thus, as per Kalindi Devi's wishes, Lord Krishna gets marries with Kalindi Devi.
Lord Krishna and Kalindi Devi children names – Shruta, Kavi, Vrusha, Veera, Subahu, Bhadra, Darsha, Purnamasa, Somaka, Shanti.
Lakshmana Devi / Lakshana Devi (Someone who is very very beautiful / Lakshana) – She was the divine daughter of Madra Raja. Her father arranges for divine swayamvar.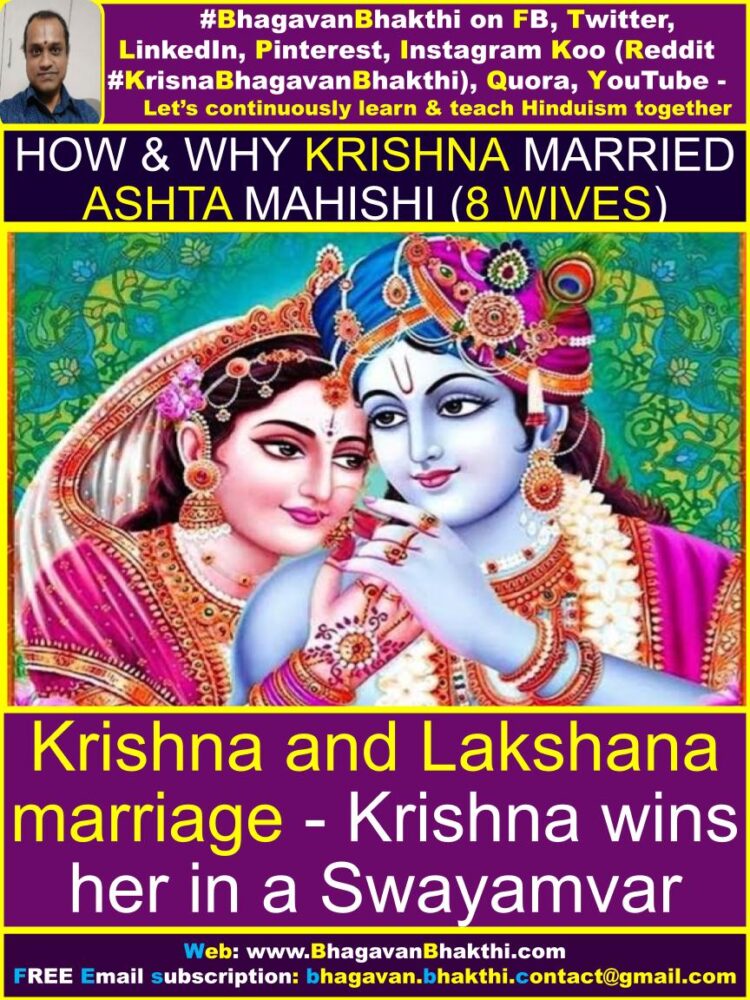 Duryodhana, Jarasandha and others gets defeated in the archery competition in this swayamvar.  Sri Lord Krishna alone aims the arrow and wins the swayamvar.
Lord Krishna and Lakshmana Devi children – Praghosha, Ghatravan, Simhabala, Prabala, Bala, Urdhvaga, Mahashakti, Shaha, Ojha and Arajita.
To know "How Krishna killed Narakasur & married 16,100 women story", click the below link:
How & why Krishna killed Narakasur & married 16,108 women story
To read the above story in Kannada, click the below link:
ಶ್ರೀ ಕೃಷ್ಣ 16,108 ಮಹಿಳೆಯರನ್ನು ಹೇಗೆ ಮದುವೆಯಾದನು?
Dear friends, if you need any clarifications about this post, kindly let me know, I will definitely try to answer all of them.
Also your one LIKE, one COMMENT, One Share, one SUBSCRIPTION is highly important.
This will help to know the quality of this content and also it will be helpful to know if any improvements is required for the content.
If you feel this content is useful to you and has helped you to improve your knowledge, kindly share this with your well-wishers.
Because "SHARING MEANS CARING".
For receive FREE EMAIL SUBSCRIPTION about #BhagavanBhakthi, you can send an email to [email protected] from your email ID.
NAMASTE!
Sri Gurubhyo Namaha
Sri Rukmini Satyabhamabhyam sahitam Krishnam Ashraye
Sri Krishnaarpanamastu
Subscribe / Follow us Share in Social Media