List of demons killed by Lord Krishna
Namaste friends, how are you doing today? Welcome to #BhagavanBhakthi website / blog.
Bhagavan Lord Sri Vishnu (Rama) (Krishna) blessings to you and your family!
In this website / blog, you will always learn about #Hinduism #Sanskrit language.
Also subscribe to my YouTube channel from this link #BhagavanBhakthi to view videos about #Hinduism #Sanskrit language.
Just before going to "List of demons killed by Lord Krishna", let us know a brief, basic and very important information.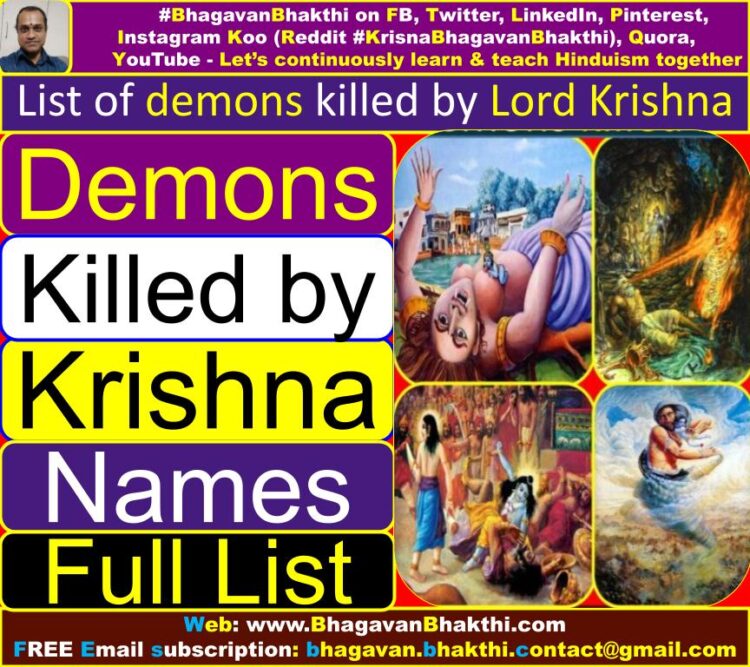 Lord Sri Krishna is called as 'sarvadamana', means he can destroy anything and everything as per his will and no one can stop him.
Lord Sri Krishna is also called as 'karunasagara', means he will definitely save all his bhaktadis / devotees.
Only thing we need to do, is to be a devotee of him and should completely surrender and depend on him.
Lord Sri Krishna always saves his devotees and similarly destroys who are against Dharma.
Same thing he did in this avatar of Lord Sri Krishna.
Lord Sri Krishna is the most loved avatar in the Kali Yuga.
List of demons killed by Lord Krishna is as given below:
Putana – She had poison in her body – She is same as Tataka (ताड़का), who gets killed by Sri Rama in Tretayuga.
Putana = Puta + Na = Pure + Not = She is considered as an impure demoness.
Putana was a rakshasi (demoness), who was killed by the infant Lord Krishna.
Putana herself disguises as a young and beautiful woman and tries to kill Lord Krishna by breast-feeding poisoned milk
But our great Lord Krishna sucks her milk and as well as her life via her breasts itself.
Lord Sri Krishna was 7 days infant when the demoness Putana tried to kill Lord Sri Krishna.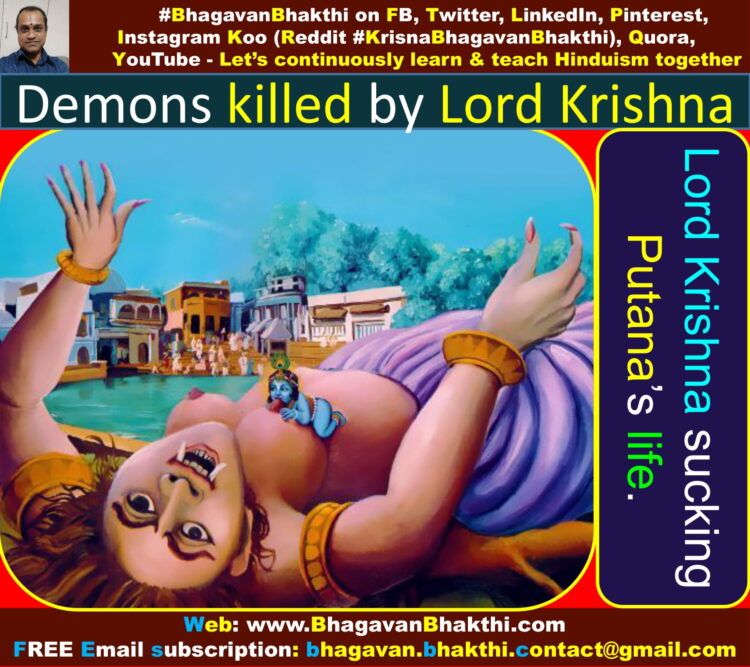 Shakatasura – The cart demon. Here Shakatasura = Shakata + Asura = Cart + Demon.
Although Lord Krishna's mother Yashoda Devi was engaged in receiving guests, Lord Krishna wanted to draw her attention by killing the demon Shakatasura.
And thus, Lord Krishna kicked that cart-shaped demon.
The demon Shakatasura was a ghost demon who had taken shelter of a handcart and was looking for the opportunity to do harm Lord Sri Krishna.
But who can harm our Lord Sri Krishna and thus Lord Krishna kicked the cart demon with His small and very delicate legs.
The ghost demon was immediately pushed down to the earth and his shelter dismantled and died instantly.
Lord Krishna was 3 – 4 months old, when Lord Krishna kills this ghost demon Shakatasura.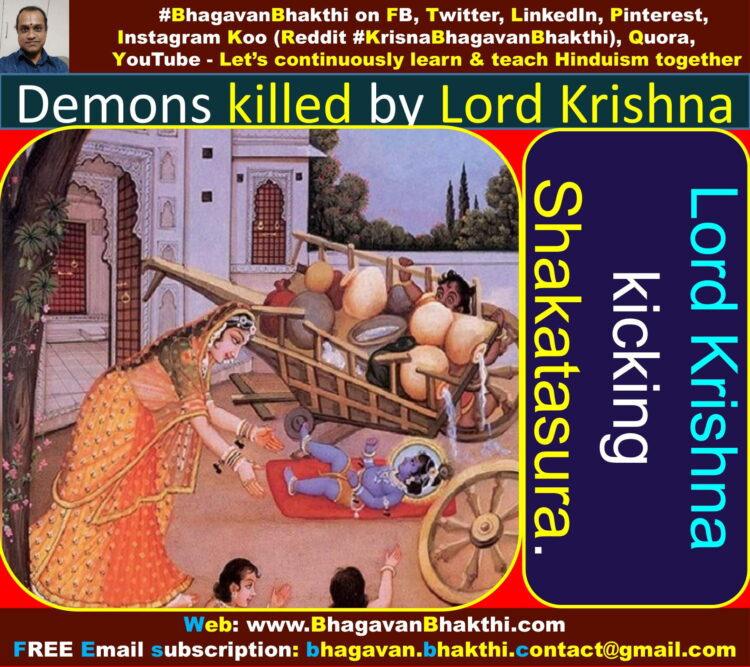 Trinavarta (Trunavarta) – The tornado (whirlwind) demon / rakshasa.
When Lord Sri Krishna was being carried away, Lord Sri Krishna held tightly to the Trinavarta's neck and became heavy.
This made Trinavarta to feel Lord Sri Krishna very heavier, causing the demon to faint and get hit by a rock which killed Trinavarta instantly.
As per Srimad Bhagavatam (Vishnu Purana), it was Lord Krishna who took the demon Trinavarta to skies and not vice-versa.
The English word tornado is taken from this Sanskrit word Trinavarta.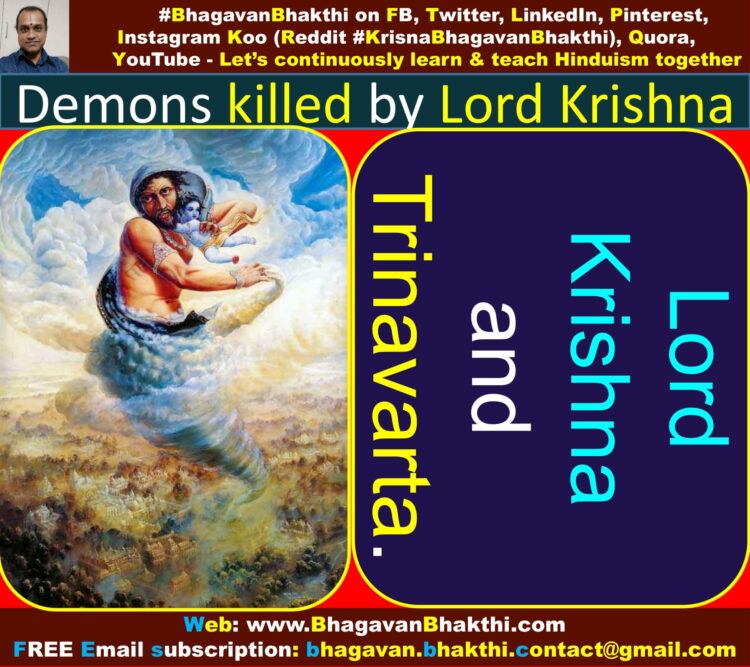 Vatsasura – He comes in the form of a young calf.
But Lord Krishna easily recognizes this calf demon Vatsasura and slays him with highest ease.
The demon Vatsasura took the form of a young cattle to blend in with the herd of Lord Sri Krishna's cows.
But it was sensed by Lord Sri Krishna, and immediately the hind legs of the calf was grabbed and it was flung to a tree, causing the demon Vatsasura to lose it's life.
Bakasura – The monstrous bird.
Here Bakasura = Baka + Asura = Eating anything at very fast rate + Demon.
Bakasura was highly evil friend of King Kamsa and the brother of Putana and Aghasura.
Bakasura comes in the form of a huge crane to kill Lord Krishna, so that the boy would not be able to kill the king.
Bakasura was then killed by Lord Krishna when the little boy (Lord Krishna) pushed his beak until it snapped like a twig.
This Bakasura is different from the Bakasura killed by the great and mighty Sri Bhima.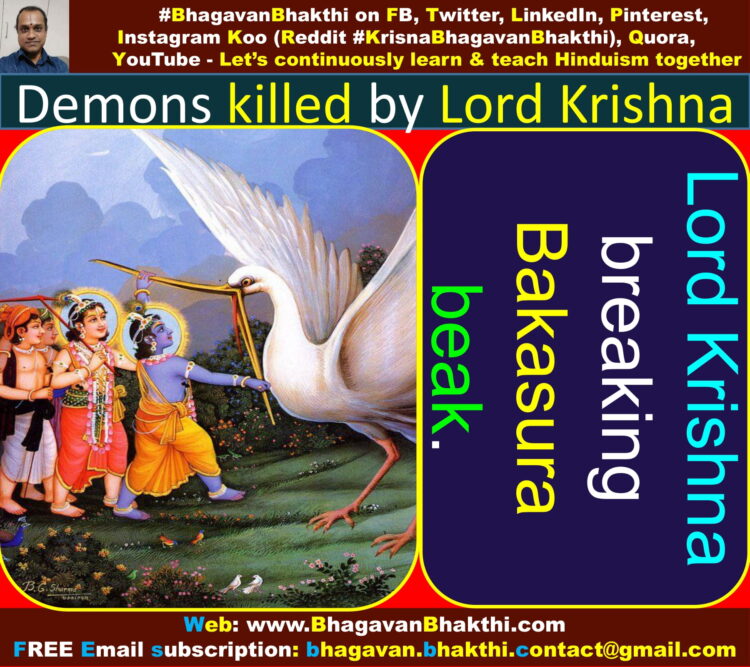 Aghasura – The huge monstrous snake demon.
Aghasura = Agha + Asura = Huge snake + demon.
Aghasura was an elder brother of the demoness Putana and demon Bakasura.
The divine Srimad Bhagavatam states that Aghasura assumed the form of an enormous serpent.
Lord Sri Krishna's companions, the cowherd boys, entered its mouth by mistaking it for a mountain cavern.
This made Lord Sri Krishna arrive to their rescue and killing Aghasura.
The Hindi word Ajgar (Python) is derived from the Sanskrit word Aghasura (Aghasur).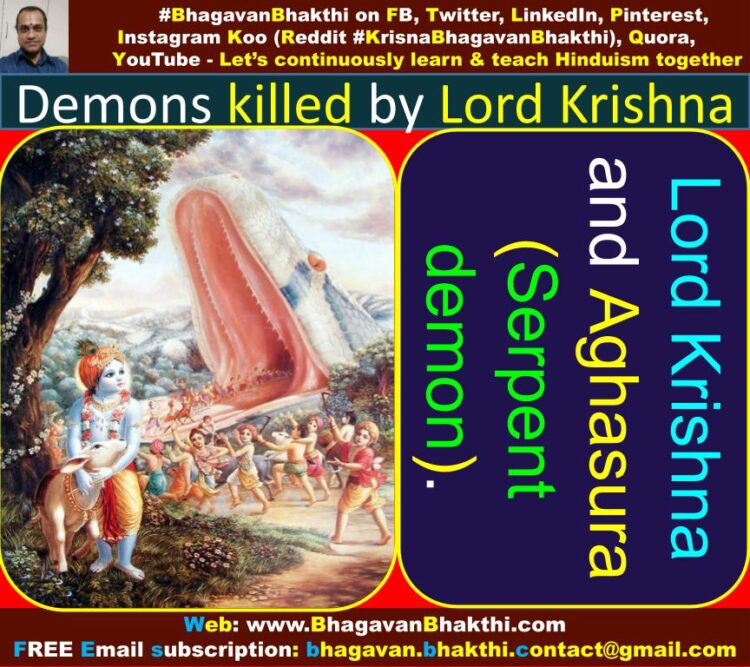 Arishtasura – The bull demon.
The demon Arishtasura made the earth tremble as he tore it apart with his hooves.
The Supreme Lord Sri Krishna seized Arishtasura by the horns and threw him back eighteen steps, just as an elephant might do when fighting a rival elephant.
As the demon Arishtasura attacked, Lord Sri Krsihna seized him by the horns and knocked him to the ground with His foot.
Later, Lord Sri Krishna thrashed Arishtasura as if he were a wet cloth.
And finally Lord Sri Krishna yanked out one of the demon's horns and struck him with it until he lay prostrate and finally was died.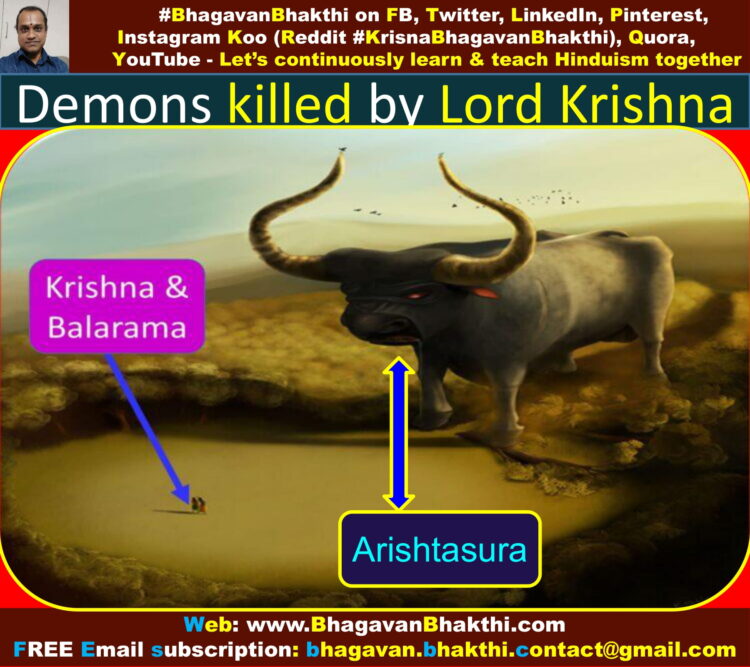 Dhenukasura = Dhenuka + Asura = Donkey + Demon.
Once, Sri Balarama, Lord Sri Krishna and cowherds wandered into this forest, captivated by the fragrance of the fruits of the palm trees.
When Lord Sri Krishna commented on the possible sweet taste of the fruit, Sri Balarama shook the trees and the fruits fell on the ground.
A jealous demon Dhenukasura charged at Sri Balarama, bit him and kicked with his hind legs.
Sri Balarama caught hold of Dhenukasura's legs and whirled him towards a tree, shattering his chest, neck and waist as the tree fell with the demon.
Sri Balarama easily killed Dhenukasura's demon attendants and set the forest open for the cowherds and finally killed Dhenukasura also.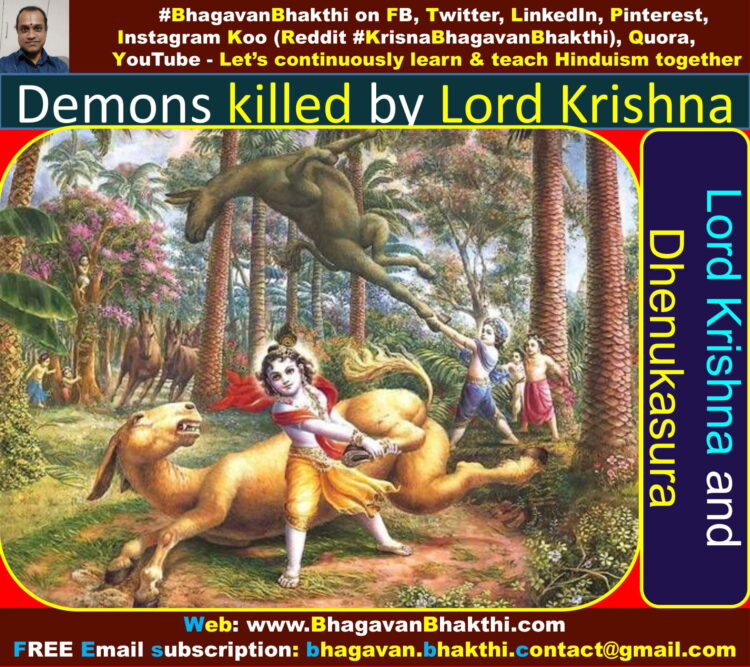 Kaliya – Although not a demon, but this huge snake was indeed causing huge problems to the locals.
Kaliya the serpent was a venomous Naga (Serpent) living in the Yamuna river, in Vrindavana.
The water of the Yamuna was getting boiled and bubbled with the poison of this Kaliya serpent.
No bird or animal could go near this river of Yamuna, and only one solitary Kadamba tree grew on the river bank.
Thus this sarpa (serpent) Kaliya was shown his way by Lord Sri Krishna to other far away place.
The celebration of Naga Nathaiya (Naga Nritya) is associated with the tale of Lord Sri Krishna dancing upon and subduing Kaliya serpent.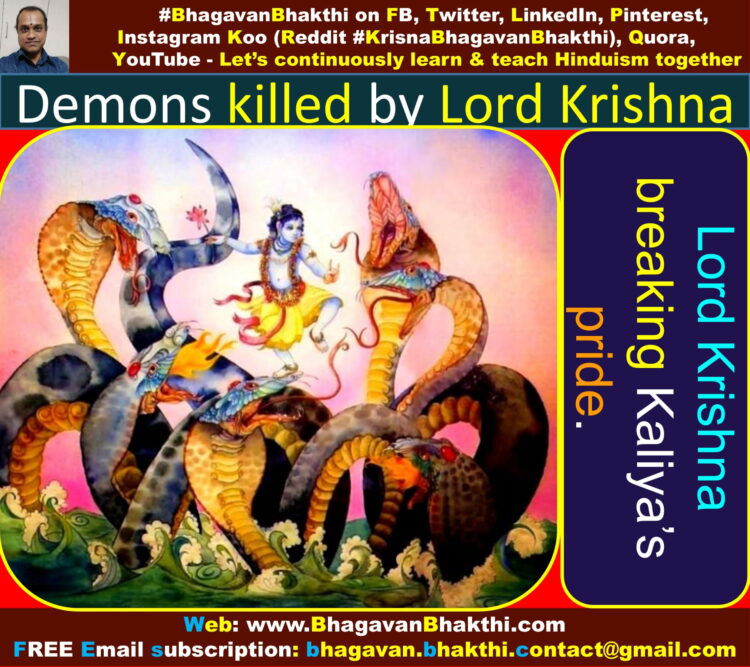 Forest fire – The whole forest fire was swallowed (extinguished) by Lord Sri Krishna.
One of the most important among the forests of Vrindavan to be recreated at Bhandirvana is celebrated as the forest of Braj.
Here Lord Sri Krishna used to enjoy his lunch with His cowherd friends under the massive Bhandirvana banyan tree.
Lord Sri Krishna performed many leelas (divine pastimes) in Bhandiravana like saving the Gopas and the calves from a colossal forest fire and killing the demon Vatsasura.
Bhandirvana also celebrates the leela (divine pastimes) of Sri Balaram killing of the demon Pralambhasura.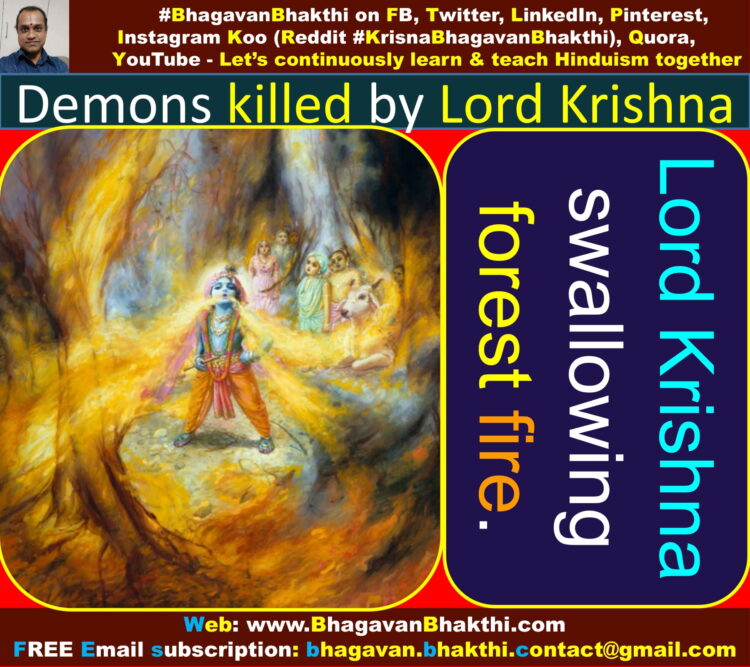 Pralambasura – This asura (demon) was killed by Sri Balarama.
But we should always remember that Lord Sri Krishna is the 'sarvottama' / supreme.
Lord Sri Krishna being the antaryami (Present inside of everyone and everything) of Sri Balarama kills this asura through Sri Balarama.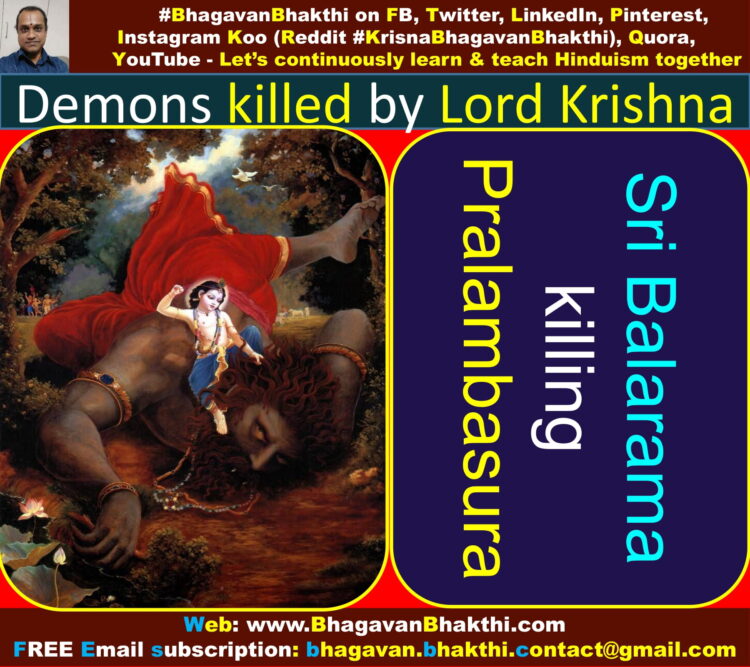 Keshi Asura (demon) – This is the horse demon.
Lord Sri Krishna got the name Lord Sri Keshava after killing this demon.
Lord Sri Hari is also known as Lord Sri Keshava since he has long and golden hairs.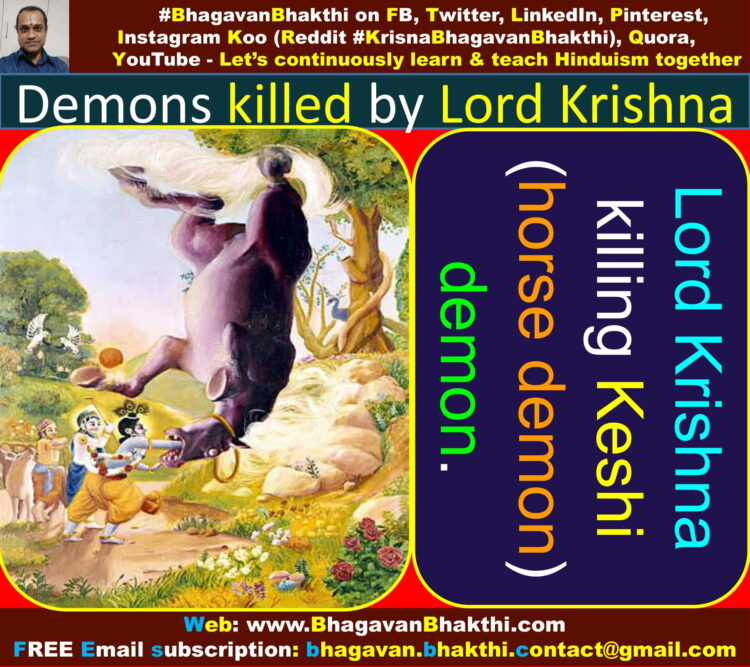 Vyomasura – The bat type of asura (demon).
A powerful magician named Vyomasura was a son of the demon Mayasura appeared on the scene in the guise of a cowherd boy.
Pretending to join the game as a thief, Vyomasura proceeded to steal most of the cowherd boys who were acting as sheep.
Just as a lion grabs a wolf, Lord Sri Krishna seized the demon Vyomasura as he was taking away more cowherd boys.
Lord Sri Achyuta (Lord Sri Krishna) clutched Vyomasura between His arms and threw him to the ground.
Then, while the demigods in heaven looked on, Lord Sri Krishna killed Vyomasura in the same way that one kills a sacrificial animal.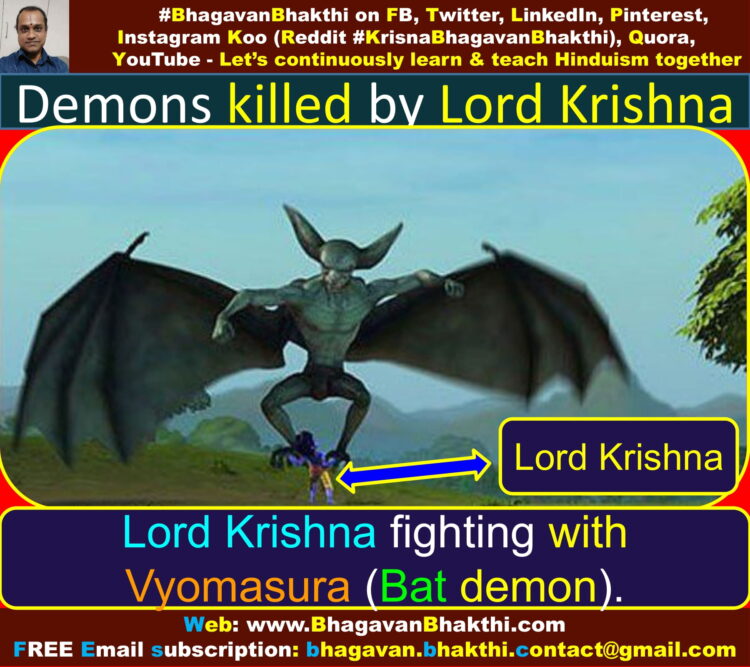 Kuvalayapeeda – The elephant demon, killed by Lord Sri Krishna, when Lord Sri Krishna enters the Mathura.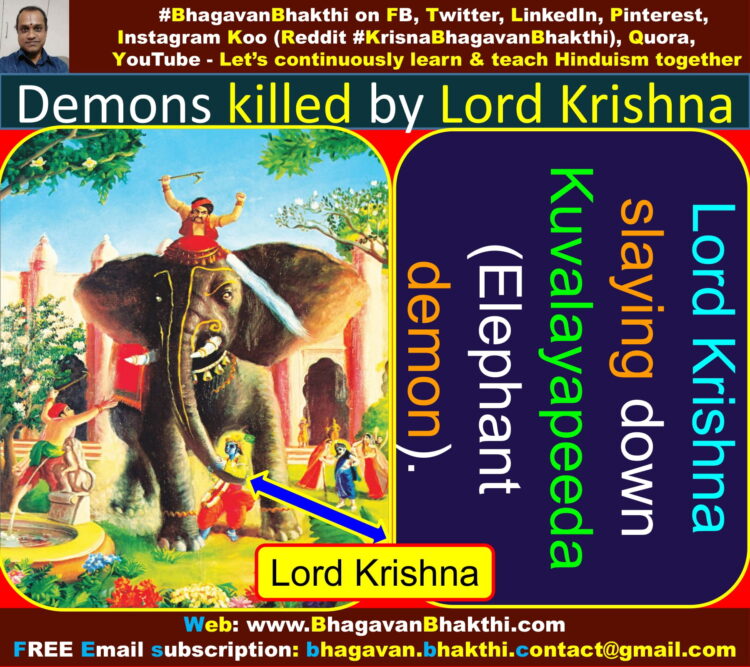 Kamsa – The maama (maternal uncle) of Lord Sri Krishna.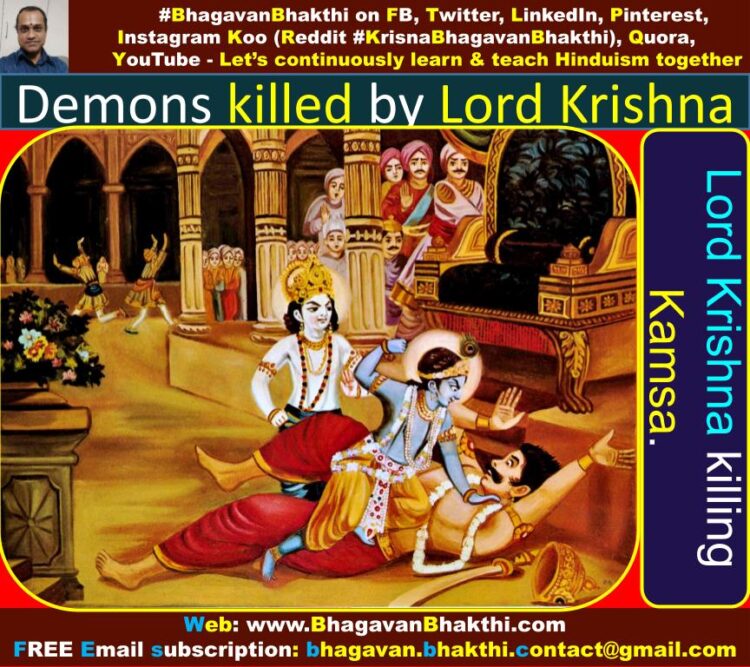 Kalayavana – He was killed through Muchukunda Maharaja (King) through the agni (fire)
This agni (fire) emanates from the eyes of the same Maharaja Muchukunda and turns Kalayavana into ashes.
This Kalayavana comes from the present Yemen country.
Probably the country name Yemen is derived from the Sanskrit word Kalayavana = Kala + Yavana (Yavan).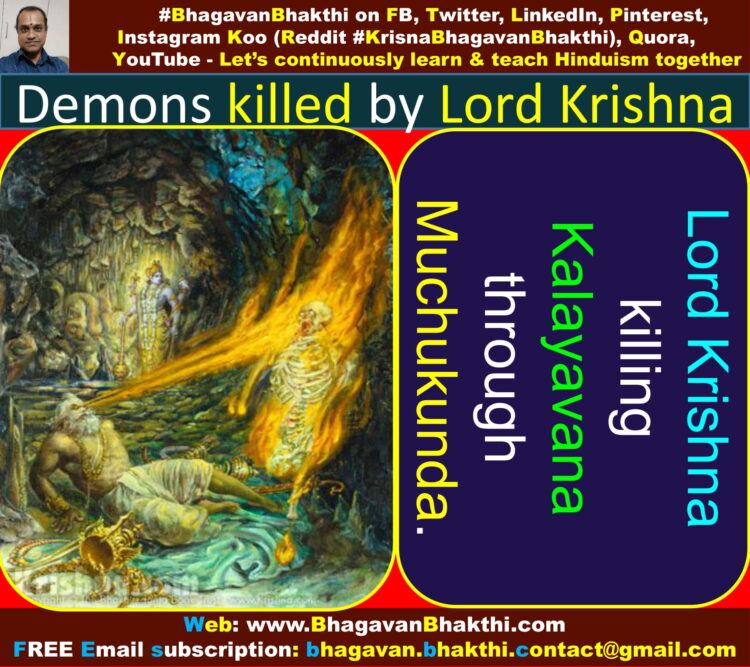 Bhaumasura (Narakasura) – He was the same who had captured 16,100 ladies.
He was killed by Lord Sri Krishna and for this reason we celebrate the Deepavali day called as 'Naraka chaturdashi'.
In the earlier life, all these 16,100 were the children of Lord Agni Deva and had an divine ambition to marry to Lord Vishnu.
And thus, Lord Vishnu has granted this boon of marrying all these 16,100 divine ladies. 
In total, Lord Krishna marries 16,108 divine Devis.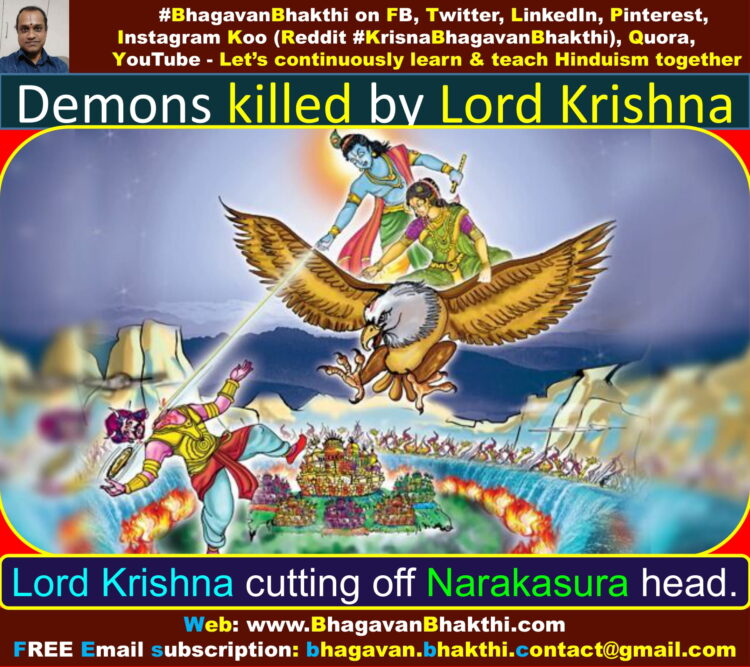 Banasura (Vanasura) – He had 1000 hands.
All his hands were cut off by Lord Sri Krishna except the last two hands.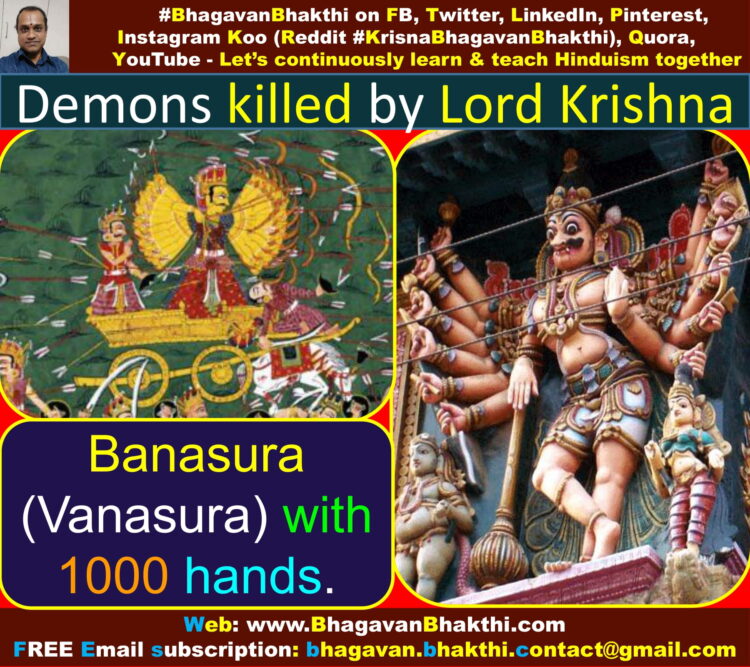 He was not killed by Lord Sri Krishna as he had come in the family of the Great Sri Prahalada Maharaja and Sri Bali Maharaja.
Earlier, Lord Vishnu had promised to Sri Prahlada Maharaja that he will not kill any of his family members.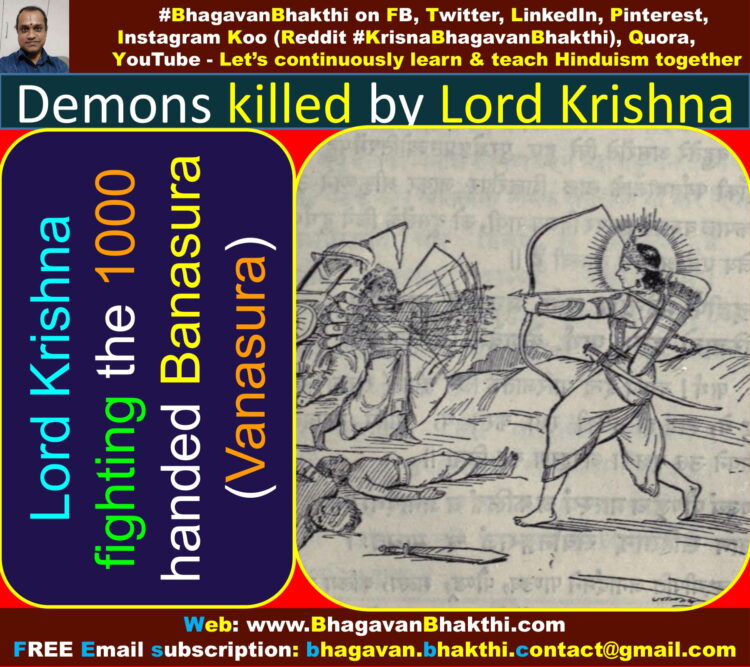 Paundraka – Although he was not a demon, but his mind was unclean.
He had started to believe himself as Lord Sri Krishna and thus was shown his way by real Lord Sri Krishna.
He was one of the most stupid person on earth.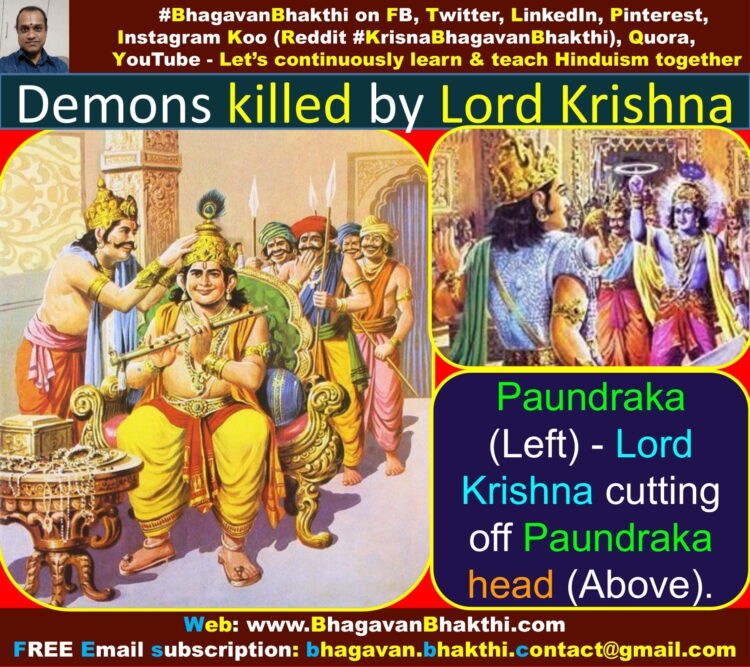 Dvivida, the Gorilla – He was killed through Sri Balarama.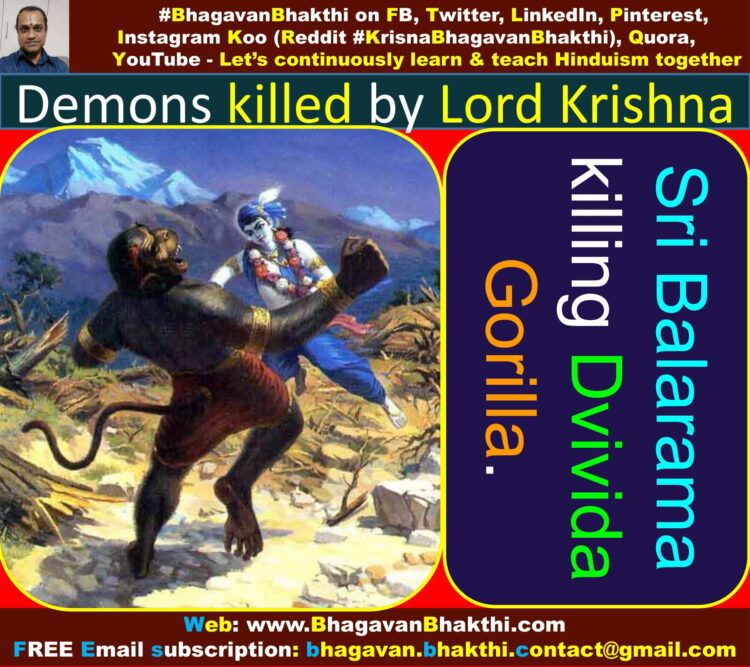 Jarasandha – He was killed through Sri Bhima.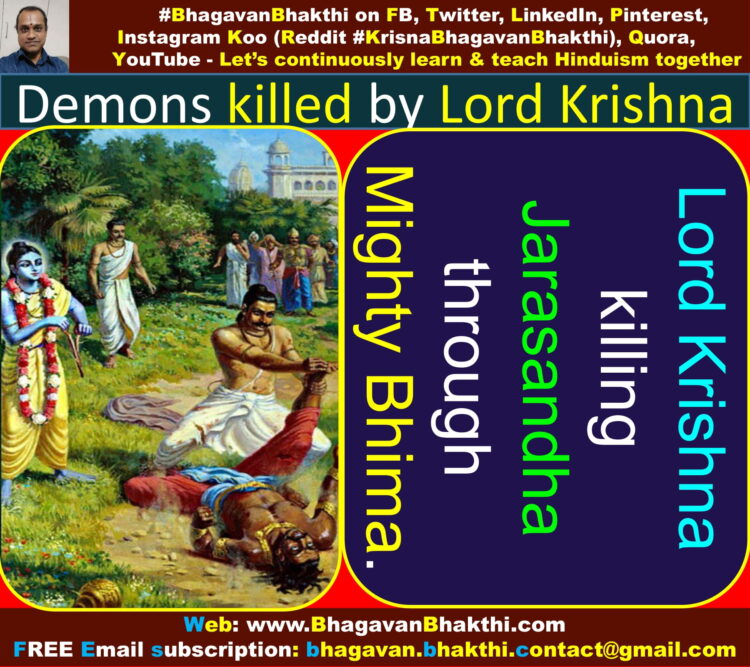 Shishupala (Shishupal) – His neck was cutoff through Sri Sudarshana Chakra by Lord Sri Krishna.
He was same as Hiranyakashipu and Ravana in the earlier lives.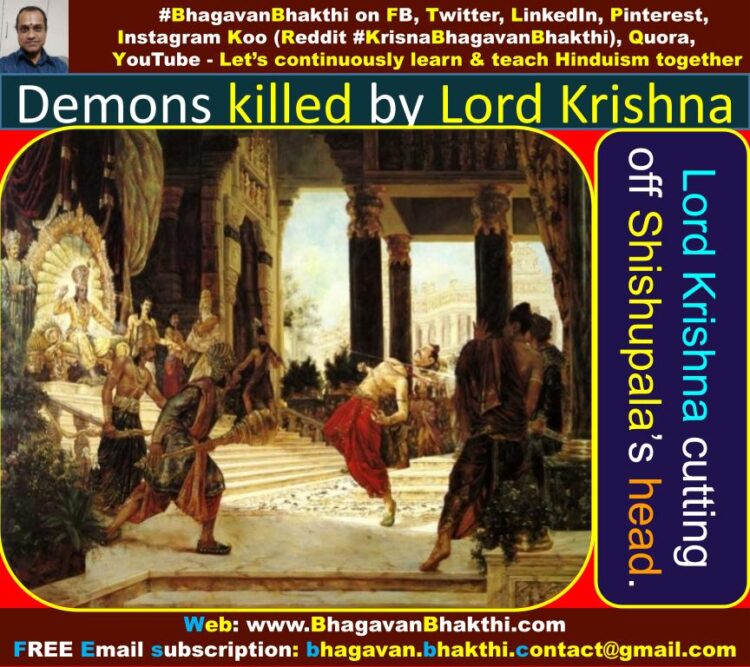 Shalva – Although not a demon, he was killed.
Dantavakra – He was the same as Hiranyaksha and Kumbhakarna in his earlier lives.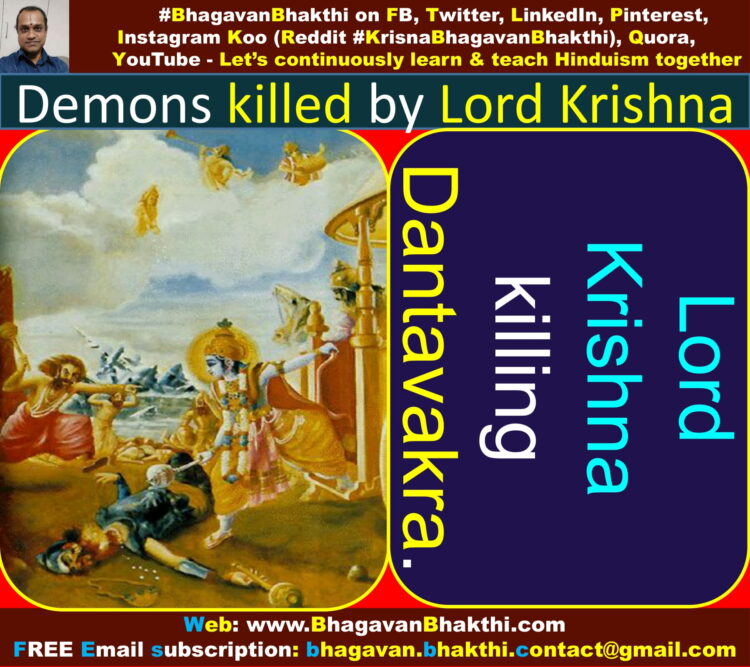 Romaharshana – Killed through Sri Balarama.
Balvala – Killed through Sri Balarama.
Chanoora – The bodyguard of Kamsa.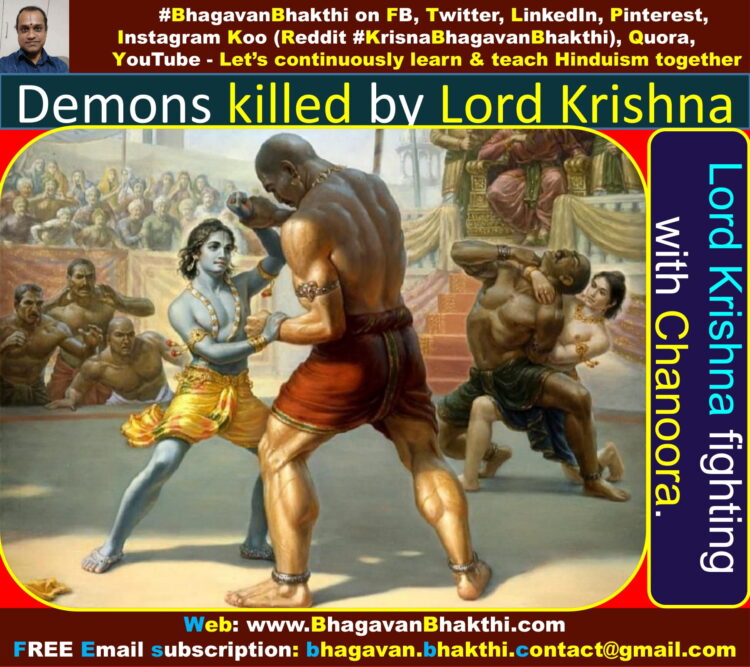 More information will be added to this on regular, please visit after some time to know more information.
To watch videos on #Hinduism #Sanskrit language, SUBSCRIBE to my YouTube channel from this below link:
#BhagavanBhakthi YouTube channel
To know the "List of demons killed by Lord Rama", you can visit the below link:
List of demons killed by Lord Rama
To watch List of Demons killed by Lord Krishna YouTube video, click the below video link:
Dear friends, if you need any clarifications about this post, kindly let me know, I will definitely try to answer all of them.
Also your one LIKE, one COMMENT, One Share, one SUBSCRIPTION is highly important.
This will help to know the quality of this content and also it will be helpful to know if any improvements is required for the content.
If you feel this content is useful to you and has helped you to improve your knowledge, kindly share this with your well-wishers.
Because "SHARING MEANS CARING".
For receive FREE EMAIL SUBSCRIPTION about #BhagavanBhakthi, you can send an email to [email protected] from your email ID.
NAMASTE!
Sri Gurubhyo Namaha
Sri Krishnaaya Namaha
Sri Krishnaarpanamastu
Subscribe / Follow us Share in Social Media