CONTENT – Bhagavan Bhakthi
Namaste friends, how are your doing today? Bhagavan Sri Vishnu blessings to you and your family!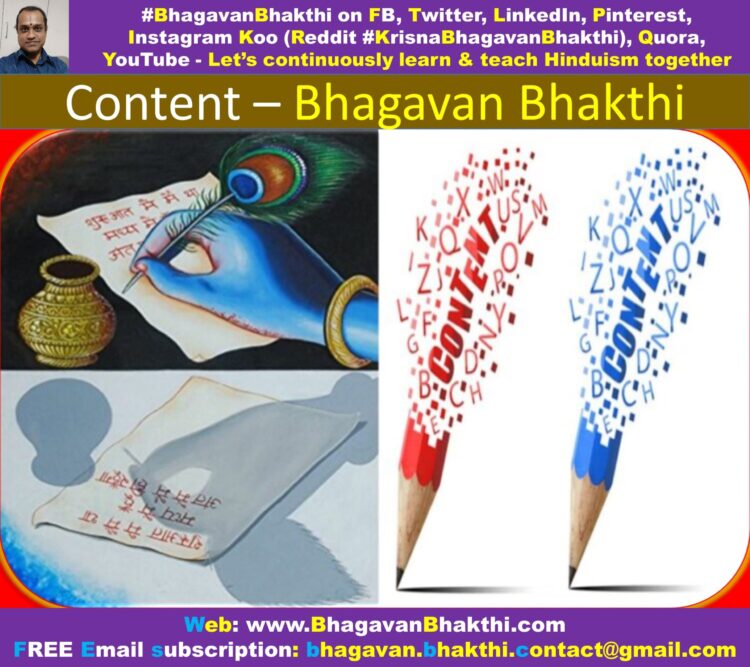 Click on to any of the below subject link(s), to go to your favorite post(s):
Ashtakshari mantra (Om Namo Narayanaya)
Corona Virus (Prayer to get rid of Corona Virus)
Cremation and Burial, which is better?
Dwadasha Stotra by Sri Madhwacharya
Earth is oval discovery – Who discovered it?
Hinduism Myths and Clarification
Janeu Yagnopaveetham Upanayanam
Mahabharata & Ramayana happened or fake
Measurement of time in Hinduism
Vasudeva Sankarshana Pradyumna Aniruddha
Why should we follow Sanatana Dharma
For any clarification, you can contact me on this email ID:
More information will be added to this on regular, please visit after some time to know more information.
To watch videos on #Hinduism #Sanskrit language, SUBSCRIBE to my YouTube channel from this below link:
#BhagavanBhakthi YouTube channel
To know more about "Lord Krishna unknown facts", please click the below link:
To know more about "Lord Vishnu unknown facts", please click the below link:
To know more about "Lord Shiva unknown facts", please click the below link:
Dear friends, if you need any clarifications about this post, kindly let me know, I will definitely try to answer all of them.
Also your one LIKE, one COMMENT, One Share, one SUBSCRIPTION is highly important.
This will help to know the quality of this content and also it will be helpful to know if any improvements is required for the content.
If you feel this content is useful to you and has helped you to improve your knowledge, kindly share this with your well-wishers.
Because "SHARING MEANS CARING".
For receive FREE EMAIL SUBSCRIPTION about #BhagavanBhakthi, you can send an email to [email protected] from your email ID.
NAMASTE!
Shubhamastu!
Sri Gurubhyo Namaha
Sri Krishnaaya Namaha
Sri Krishnaarpanamastu
Follow us on Social Media
Subscribe / Follow us Share in Social Media