Proof of Mahabharata (Pandavas) (existence) (unbelievable facts)
Namaste friends, how are you doing today? Welcome to #BhagavanBhakthi website / blog. Bhagavan Lord Sri Vishnu blessings to you and your family!
In this website / blog, you will always learn about #Hinduism #Sanskrit language. Also subscribe to my YouTube channel #BhagavanBhakthi to view videos about #Hinduism #Sanskrit language.
Hinduism (Sanatana Dharma) is existing since the 'aadi kalam' (Grand unknown time frame) and will definitely long last until the 'ananta kalam' (Grand infinite time frame).
No one knows about the existence of Hinduism (Sanatana) other than Lord Vishnu himself.
There are innumerable and believably unbelievable proofs in India about the existence of Mahabharata.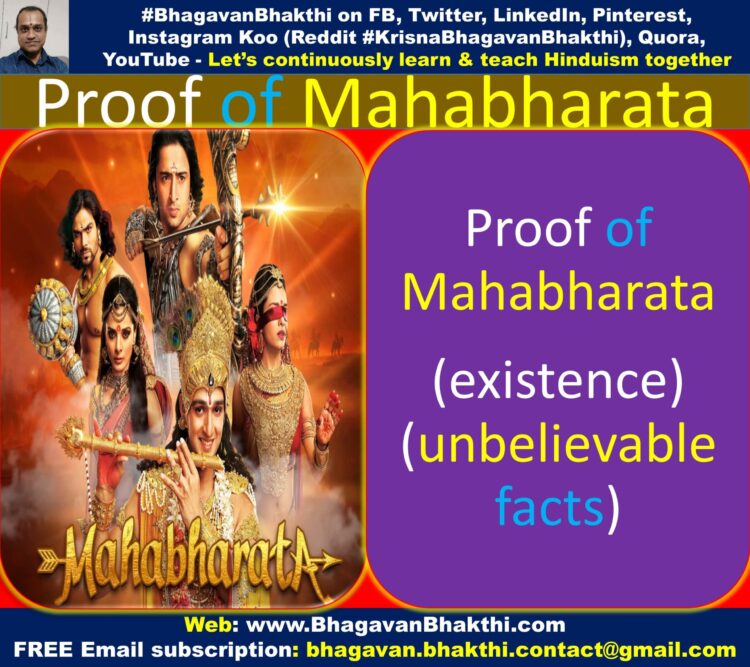 Today, let us know few of those real proofs about the existence of the Mahabharata.
First let us know the names of the list of the proof of Mahabharata, later below we will learn more information about the same with images.
List of proof of Mahabharata are as given below:
Pandavas in Makali (Outskirts of Bengaluru)
Pandavas in Aigandapura (Near Bengaluru)
Sri Dharmarayaswamy temple in Bengaluru
Pandavas in Delhi (Indraprastha)
Evidence in Dwaraka, Gujarat
Pandavas in Telangana
Pandavas in Makali (Outskirts of Bengaluru) : Makali is a place on the outskirts of Bengaluru, where the great Bhima and other Pandavas visited and here he consecrated a Lord Shiva Linga.
The priests here say the place named as Sri Bhimeshwara temple. This temple is located on banks of Arkavati river.
There is a giant footprint of the great Bhima in this place and locally this footprint is called as Bhimana Hejje (Bhima's footprint).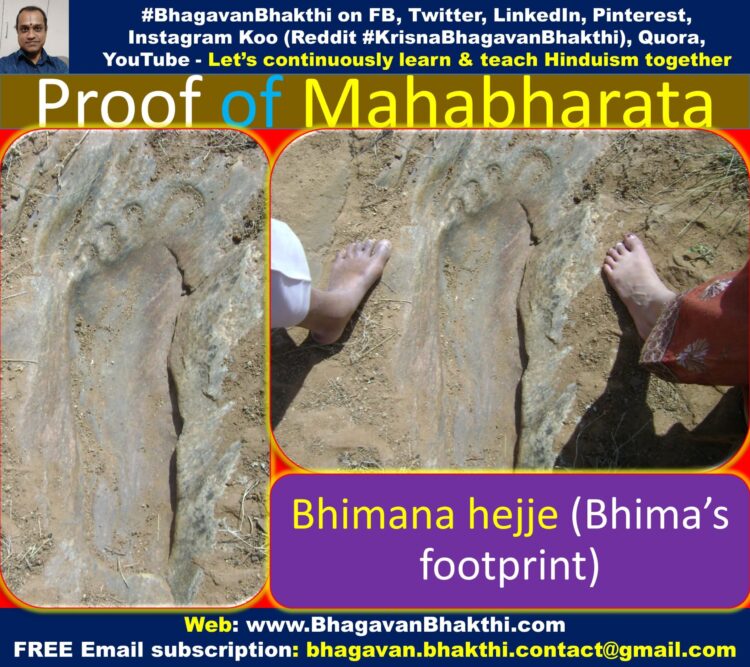 Pandavas in Aigandapura (Near Bengaluru) : There are Lord Shiva temples with names Bhimeshwara (Bhima), Dharmeshwara (Dharma / Yudhishthira), Arjuneshwara (Arjuna), Nakuleshwara (Nakula), Sahadeshwara (Sahadeva) and Kuntigudi (Kunti).
The Bhimeshwara temple is spread out across the road and is on slightly higher plane. Aigandapura is 30 Kms from Bangalore on Tumkur road.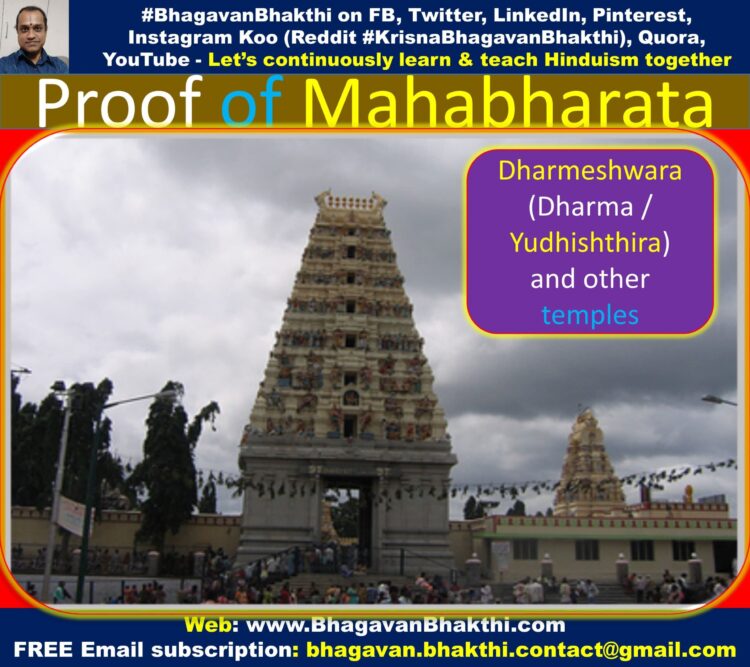 Sri Dharmarayaswamy temple in Bengaluru : Legends say that Draupadi Devi created an army of soldiers, called Veerakumaras, after the Mahabharata war, to fight a demon called Timirasura.
When the Pandavas were ascending to heaven, the Veerakumaras asked her to stay back.
She promised them that she will come back to earth once every year. The ten-day Karaga (A festival) marks the homecoming of Draupadi Devi.
This temple is in Bengaluru and it is called as Sri Dharmarayaswamy temple.
This temple is built in the Dravidian style, it is one of those rare temples dedicated to the Pandavas and Draupadi Devi.
While it is named after Dharmaraya (Yudhishthira), but it is Draupadi Devi who is mainly worshipped in this temple.
Next to them are idols of Bhima, Arjuna, Nakula and Sahadeva, apart from Lord Krishna and Adi Shakti.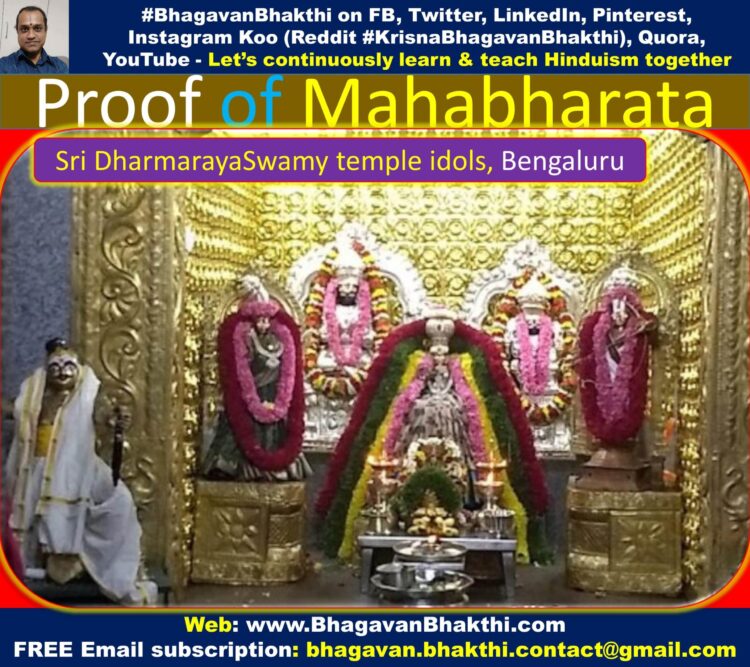 Pandavas in Delhi (Indraprastha) : A place called Kurukshetra, where the great Mahabharata war happened, archaeologists have uncovered few iron arrows, spearheads etc. with the use of thermoluminescence technology.
All these weapons dates back to 2,800 B.C.E., which is almost the approximate time frame of the Mahabharata war.
The Mahabharata epic clearly talks about the cities that were given to Pandavas like Indraprastha, Paniprastha and Vanaprastha.
These cities now are in today's Delhi's Puranaqila, and archaeologists have found pottery and antiquities that corresponding to cultural and dating consistency with the Mahabharata period.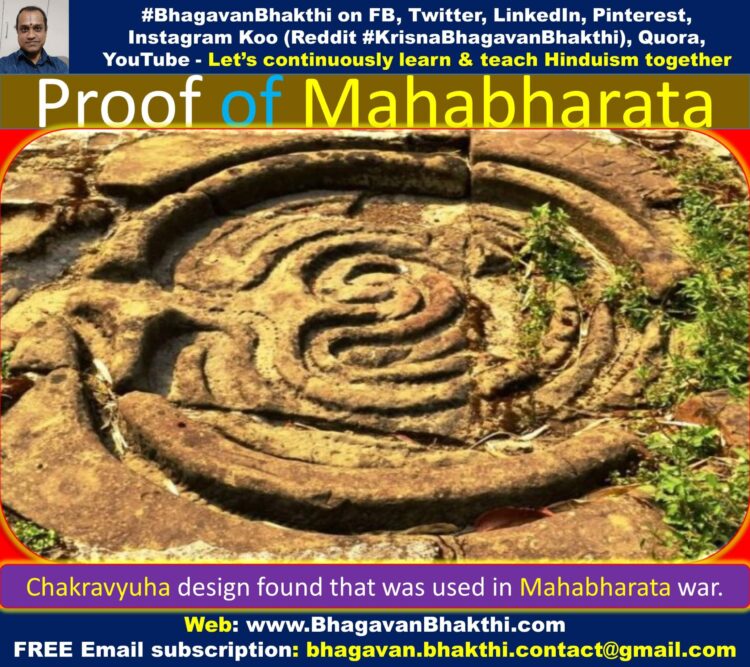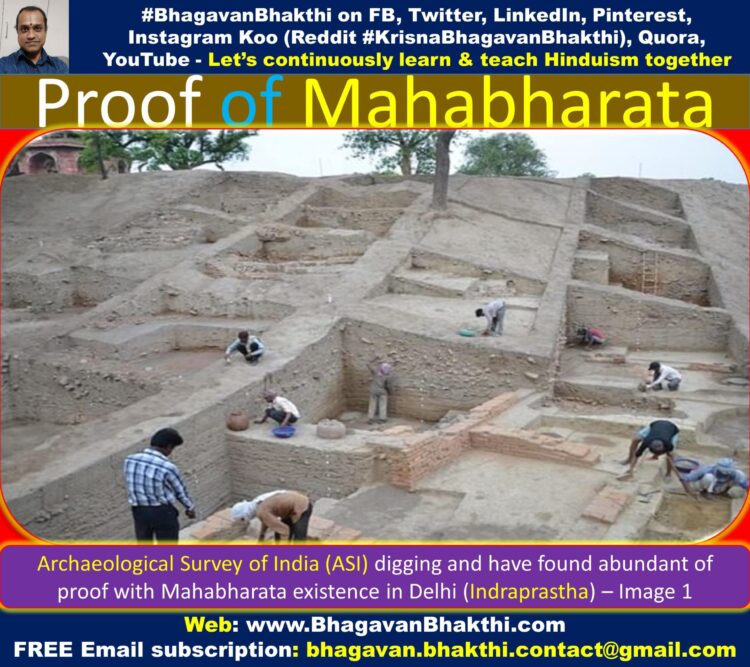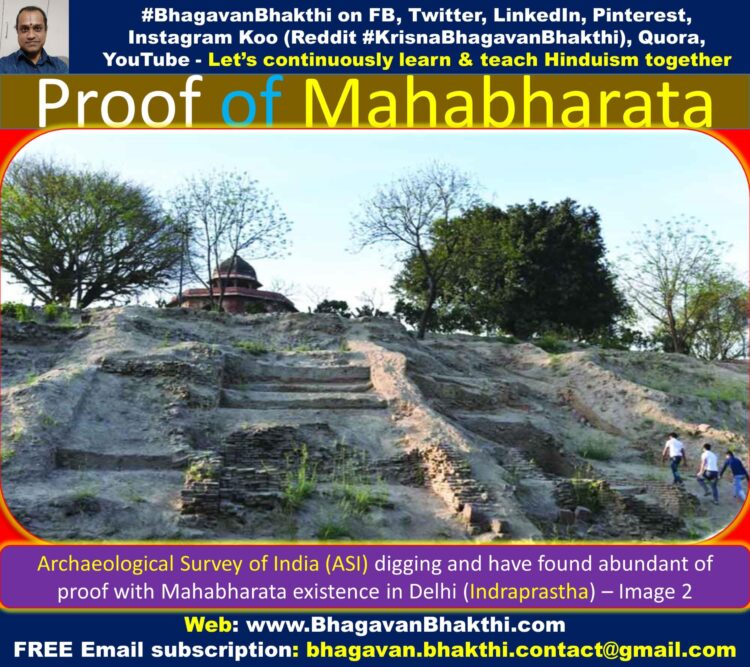 Evidence in Dwaraka, Gujarat : The marine archaeologists have discovered few huge piers, fort walls etc. in the ocean near the city of Dwaraka, Gujarat.
All these evidence are in alliance with the descriptions in the Mahabharata scripture which talk about existence of Mahabharata.
Marine archaeologists have also found the entire city of Dwaraka submerged in the ocean, which is said to be the ancient port city of Lord Krishna.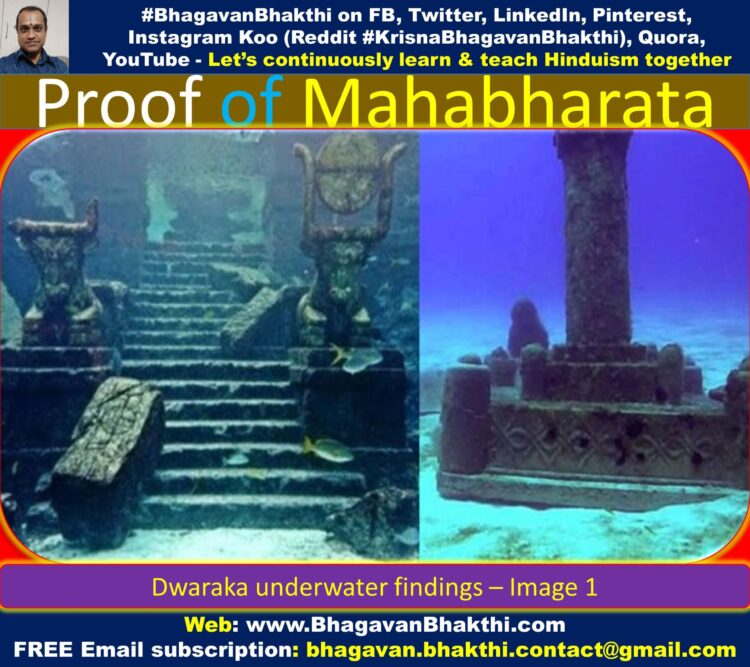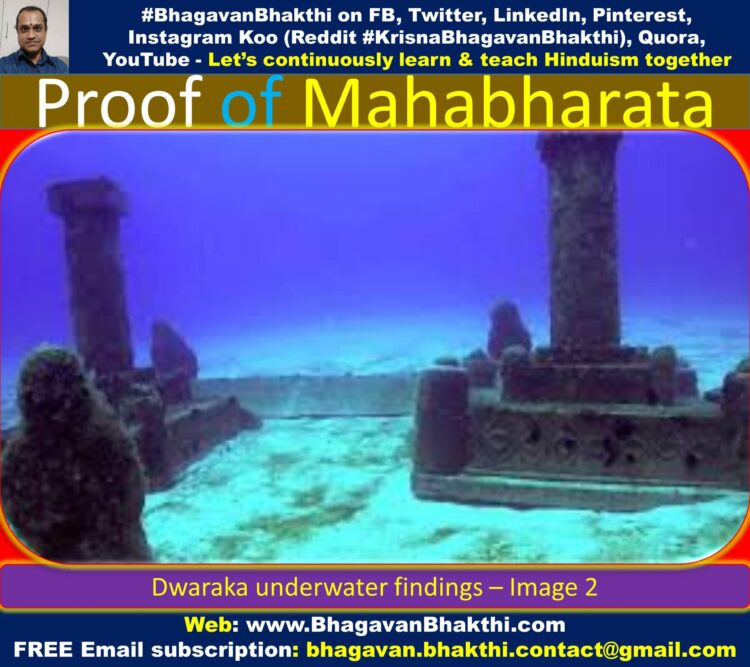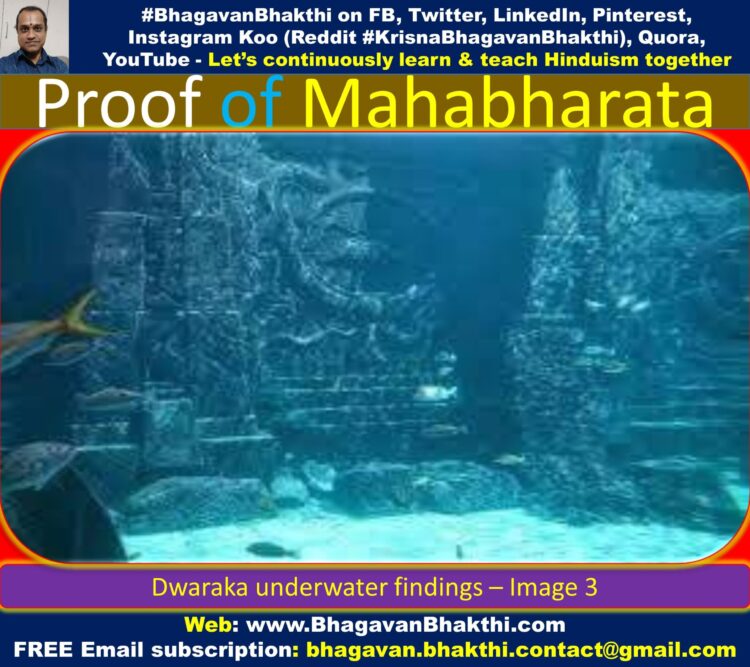 Pandavas in Telangana : Pandavula Gutta (Pandavas caves / hills) is Located at Regonda mandal in Jayashankar Bhupalpally District of Telangana State.
The Telangana Region is believed to have been mentioned in the Mahabharata as the Telinga Kingdom, which is said to have been inhabited by the tribe known as Telavana, who fought on the Pandavas side in the great war of Kurukshetra.
This is the place where the mighty Pandavas spent their life in exile for some time (Lakka Guham).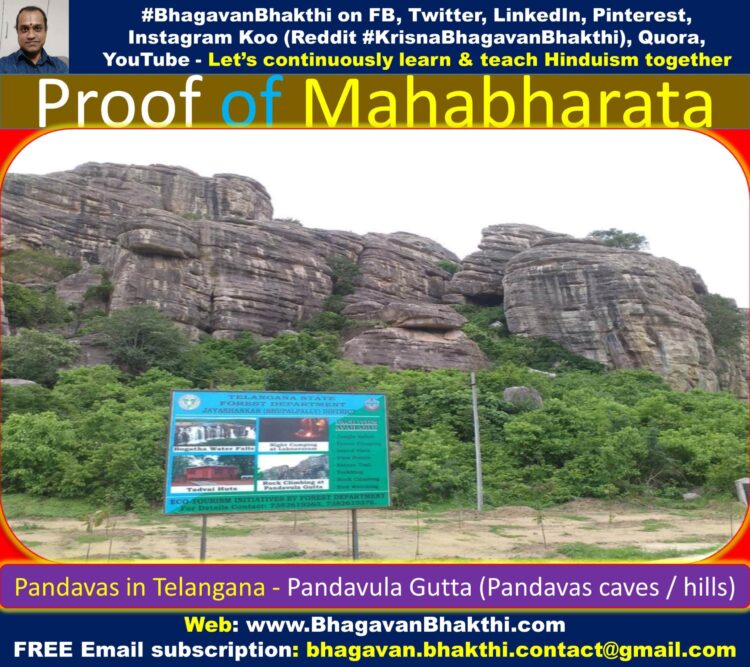 More information will be added to this on regular basis. Please visit after some time to get more updates.
To know about Mahabharata unknown facts, please click the below link:
To know about "Hinduism unknown facts", please visit the below link:
Dear friends, if you need any clarifications about this post, kindly let me know, I will definitely try to answer all of them.
Also your one LIKE, one COMMENT, One Share, one SUBSCRIPTION is highly important.
This will help to know the quality of this content and also it will be helpful to know if any improvements is required for the content.
If you feel this content is useful to you and has helped you to improve your knowledge, kindly share this with your well-wishers.
Because "SHARING MEANS CARING".
To receive FREE EMAIL SUBSCRIPTION about #BhagavanBhakthi, you can send an email to [email protected] from your email ID.
NAMASTE!
Sri Gurubhyo namaha
Sri Krishnaaya namaha
Sri Krishnaarpanamastu
Subscribe / Follow us Share in Social Media