What all things came out of samudra manthan
Namaste friends, how are your doing today? Bhagavan Sri Vishnu blessings to you and your family!
The real legend and classic समुद्र मंथन / ಸಮುದ್ರ ಮಂಥನ / samudra manthana (Samudra Manthana / Churning of ocean) is one of the popular phenomenon in Hinduism (Sanatana Dharma).
This has been very clearly explained in Hindu Shastras (Hindu divine books) like Srimad Bhagavatam (Sri Vishnu Purana). The Samudra Manthana explains the origin of Amrita (Ambrosia), Kalpavriksha etc. (More names we will see below).
Samudra Manthana episode shows both greed and need, that is, Rakshasas (Demons) showed the greed, whereas Devatas (Demigods) showed their need.
Here Samudra Manthana = Ocean + Churning, that is churning of the ocean. Samudra Manthana is also known as Sagara Manthana or Kshira Sagara Manthana. Some people call it as simply 'Amrita Manthana'.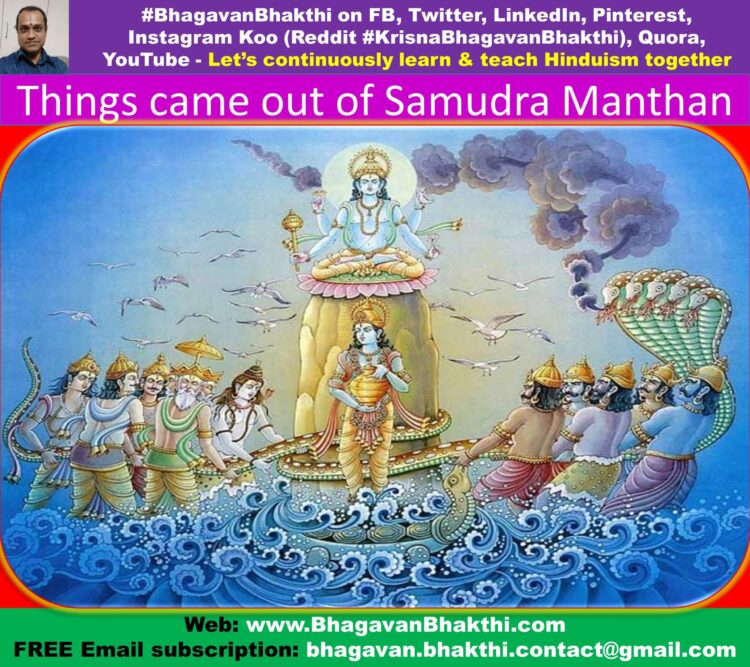 Bhagavan Sri Vishnu made the Mandara parvata (mountain) the churning rod and Vasuki (Lord Shiva's neck snake) the rope, and svayam Bhagavan Sri Vishnu churned the 'Kshira Sagara' with other Devatas (Demigods) and the demons.
The demons preferred to hold the snake Vasuki (Lord Shiva's snake) on the side of the head, and the Devatas (Demigods) held it on the tail side. This caused huge fatigue to the demons.
The mountain Mandara sank because of its weight. Then Bhagavan Sri Vishnu lifted the Mandara mountain and placed it on his own back, assuming the Kurma Avatar (An avatar of Bhagavan Sri Vishnu – This is one of the Dasha Avatar of Bhagavan Sri Vishnu).
Not only was the mountain held by Bhagavan Sri Vishnu on His back, but He entered inside it and supported it. He entered inside Devatas (Demigods) and the demons also to enable them to churn with ease.
In the course of churning the Halahala poison came out. The Halahala poison was drunk by Sri Vayu Deva. Sri Vayu Deva took it in his hand as per Bhagavan Sri Vishnu's instructions, rubbed a little portion of it, reduced its vigor, and gave it to Lord Shiva, as per Lord Shiva request.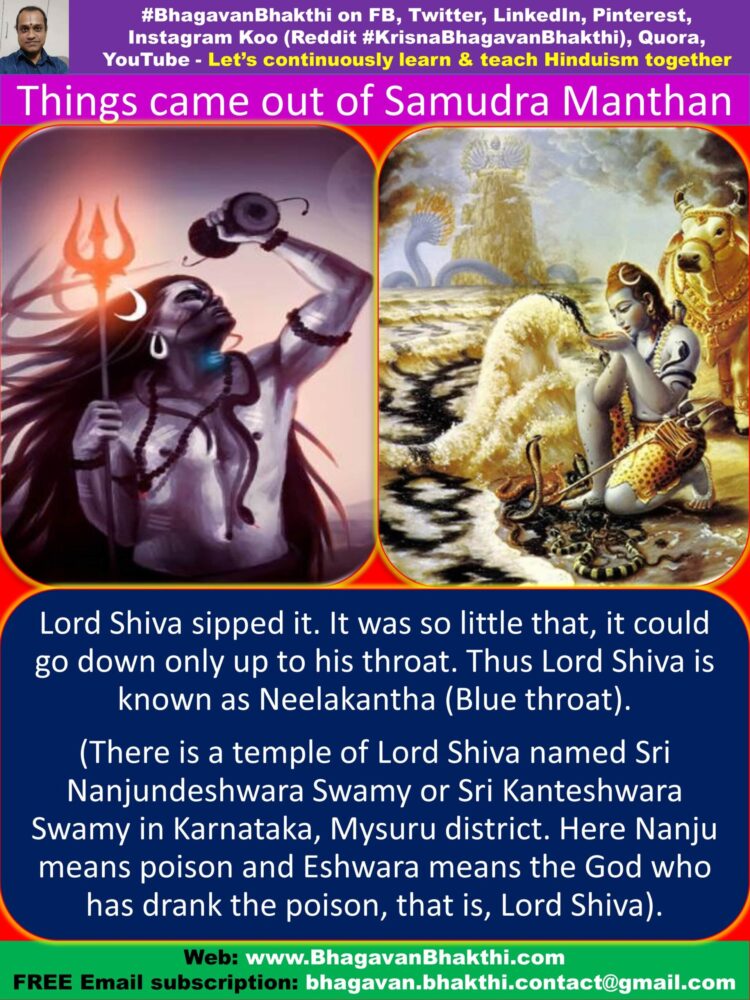 Lord Shiva sipped it. It was so little that, it could go down only up to his throat. Thus Lord Shiva is known as Neelakantha (Blue throat).
(There is a temple of Lord Shiva named Sri Nanjundeshwara Swamy or Sri Neela Kanteshwara Swamy in Karnataka, Mysuru district. Here Nanju means poison and Eshwara means the God who has drank the poison, that is, Lord Shiva).
(Sri Kanteshwara means, the God whose Kantha / neck has become blue in color).
Now, let us know the list of things which came out during the Samudra Manthana (Churning of Ocean).
All kinds of divine herbs were cast into the ocean and fourteen Ratnas (gems or treasures) were produced from it and were divided between the Asuras (Demons) and the Devas (Demigods).
Though usually the Ratnas are enumerated as 14, the list in the scriptures ranges from 9 to 14 Ratnas.
According to the quality of the treasures produced, they were accepted by Lord Shiva (because of consuming the poison), Lord Vishnu, Maha Rishi's (for Kamadhenu or Surabhi), which was given by Lord Vishnu, the other Devatas (Demigods) and the Asuras (Demons).
There were three categories of Goddesses which emerged from the ocean.
List of things came out of samudra manthan (Churning of ocean) are as given below:
Goddess Sri Maha Lakshmi : Goddess Sri Maha Lakshmi Devi, that is, Goddess of Fortune and Wealth, who was accepted by Lord Vishnu as his eternal consort.
We should remember here that, this is not the first birth of Goddess Sri Maha Lakshmi Devi. But in fact this was an avatar of reincarnation of Goddess Sri Maha Lakshmi Devi similar to Goddess Sri Sita Devi and Goddess Sri Rukmini Devi.
Here Goddess Sri Maha Laskhmi Devi takes the avatar as daughter of Lord Varuna, that is the Lord of the Oceans.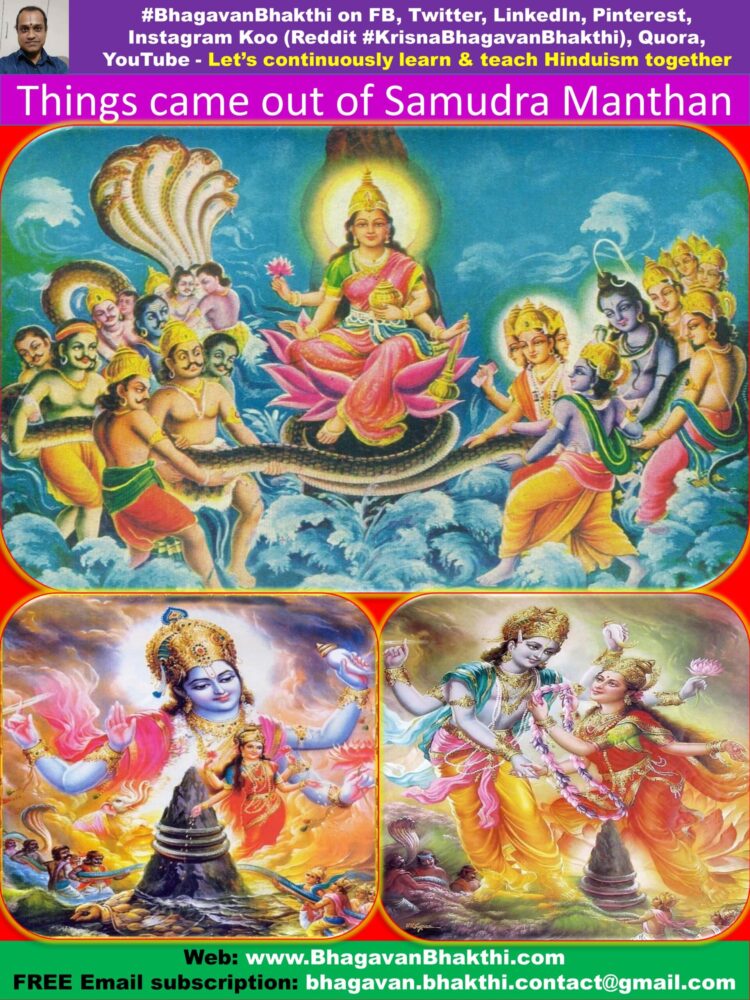 Apsaras : Various divine Apsaras (nymphs) like Rambha, Menaka, Punjisthala etc. All chose the Gandharvas as their companions.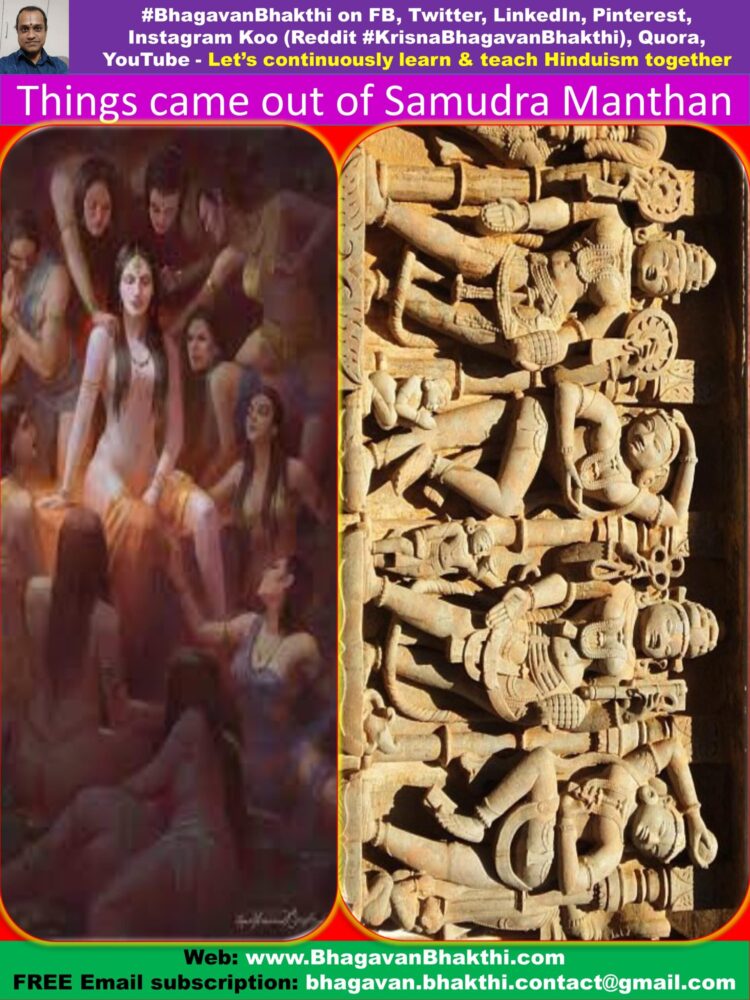 Varuni : Varuni was taken somewhat reluctantly (she appeared disheveled and argumentative) by the Asuras (Demons). Similarly, three types of supernatural animals appeared.
Kamadhenu (Surabhi) : Kamadhenu or Surabhi, the divine wish-granting cow, taken by Lord Brahma and given to the sages, so that the ghee from her milk could be used for Yajna and similar rituals.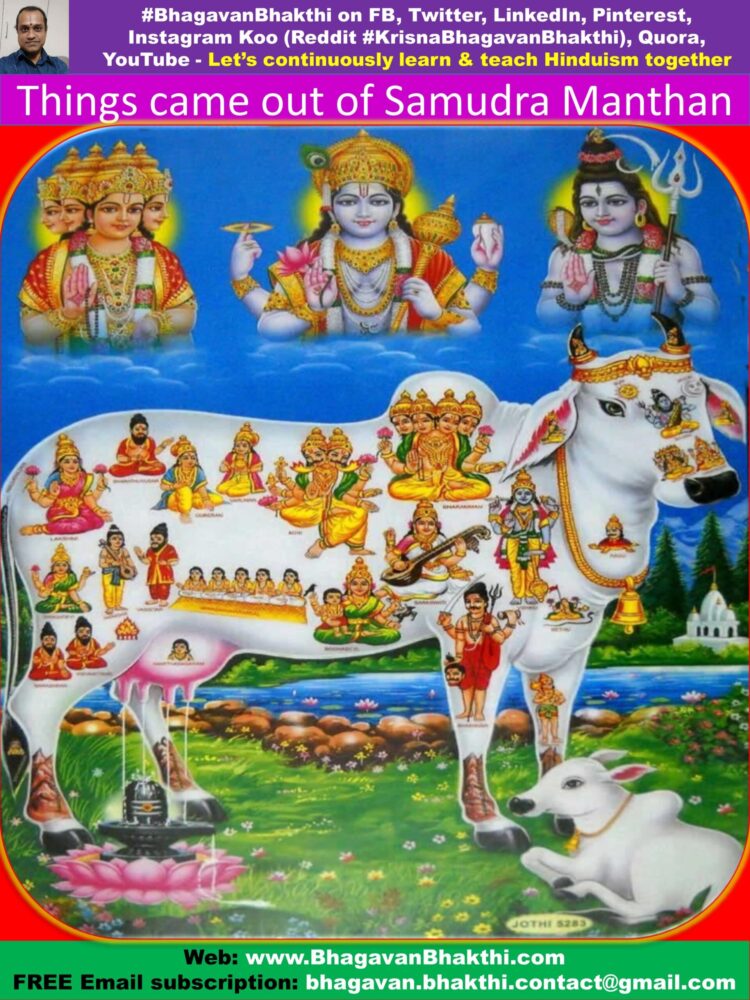 Airavata : Airavata, the divine elephant and several other elephants, taken by Lord Indra.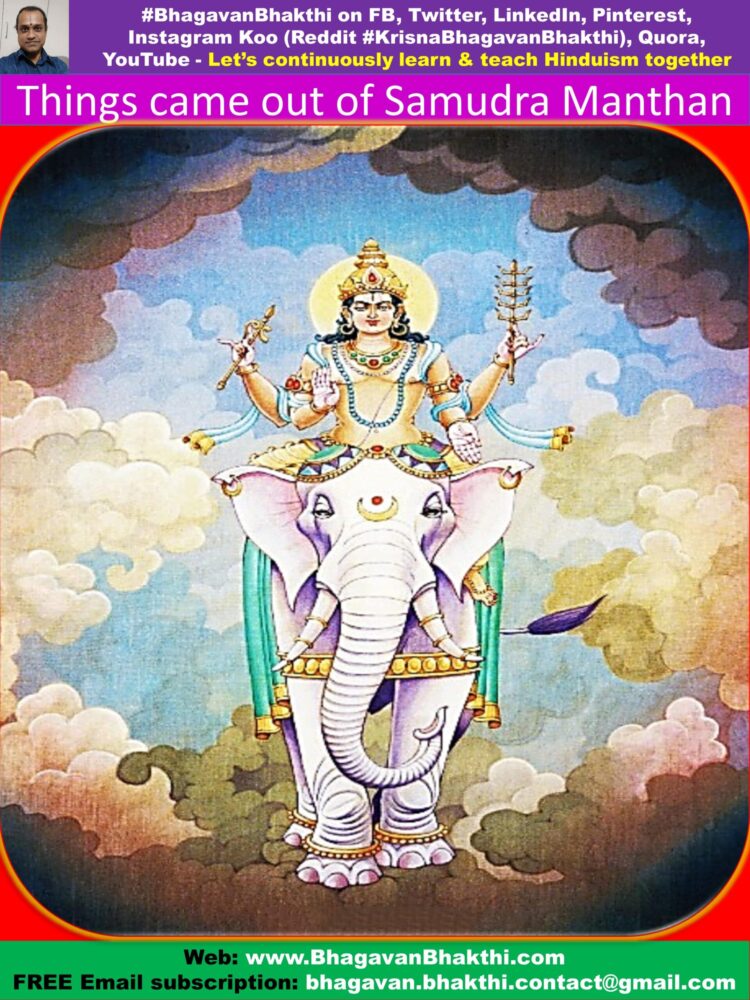 Uchhaishravas : Uchhaishravas (Seven headed horse), that is, the divine seven-headed horse, given to Bali Chakravarti (A Demon). Similarly, three valuables were also produced as written below.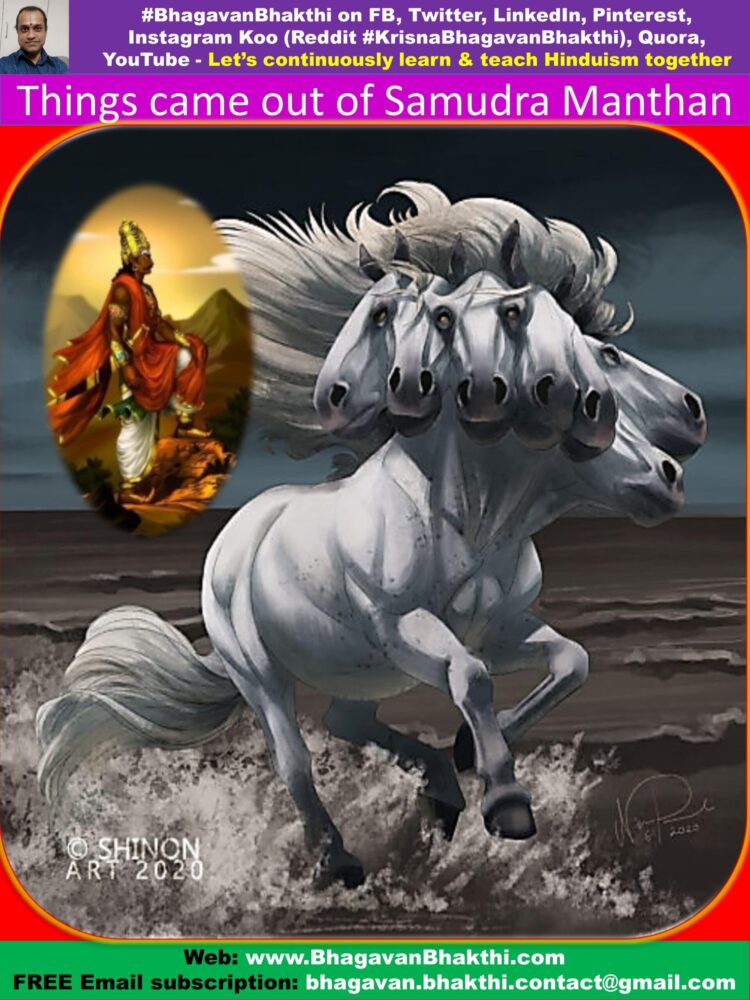 Kaustubha : Kaustubha, the most valuable ratna (divine jewel) in the unlimited universes, worn by Lord Vishnu.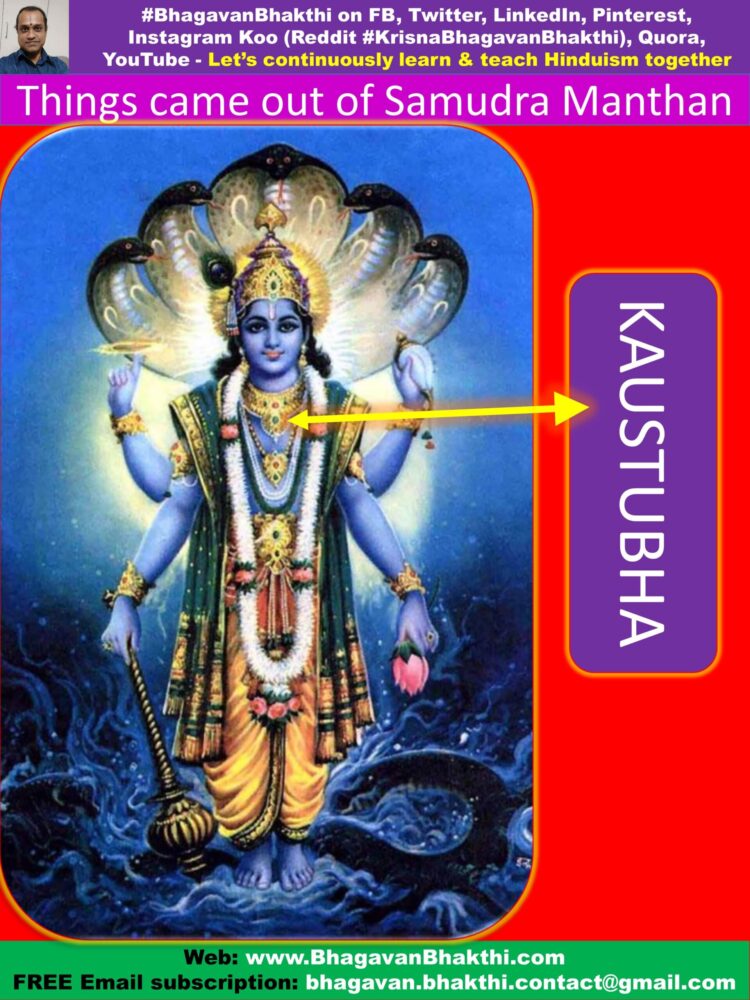 Parijata : Parijata, the divine flowering tree with blossoms that never fade or wilt, taken to Indraloka (Swarga Loka) by the Devatas (Demigods).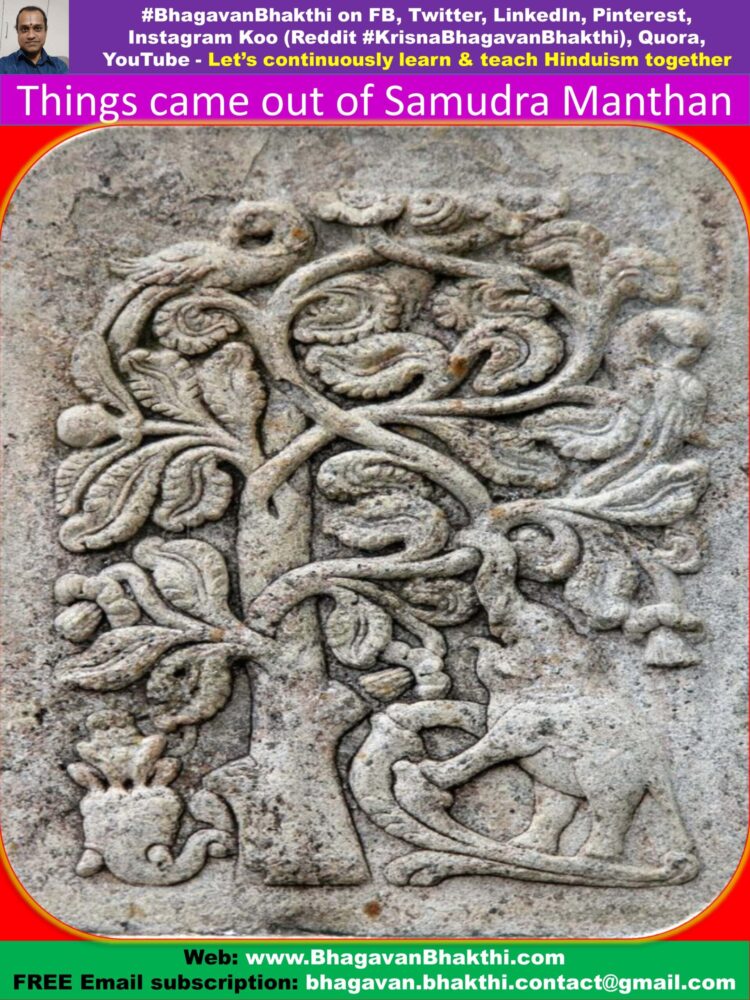 Sharanjna : Sharanjna a powerful bow, given to Lord Vishnu.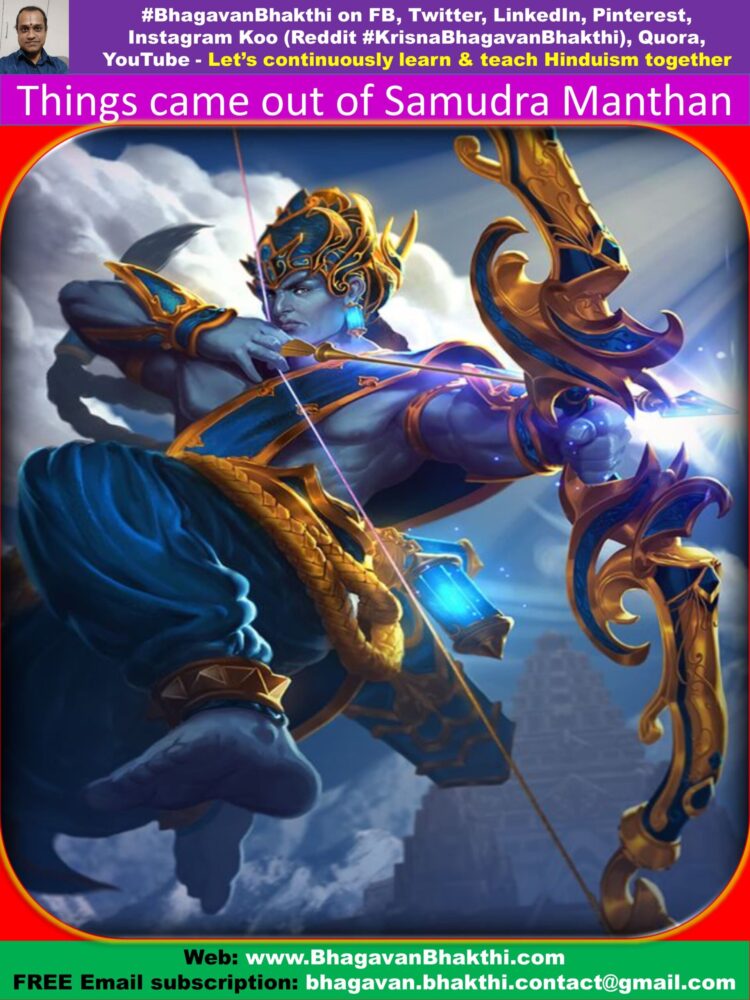 Additionally, many divine things came out as shown below.
Chandra : Chandra the moon which adorned Lord Shiva's head. Thus Lord Shiva is called as Chandrashekhara or SomaShekhara.
Dhanvantari : Dhanvantari, the "Vaidya of the Devatas" (Doctor of Gods) with Amrita in his hand, the nectar of immortality.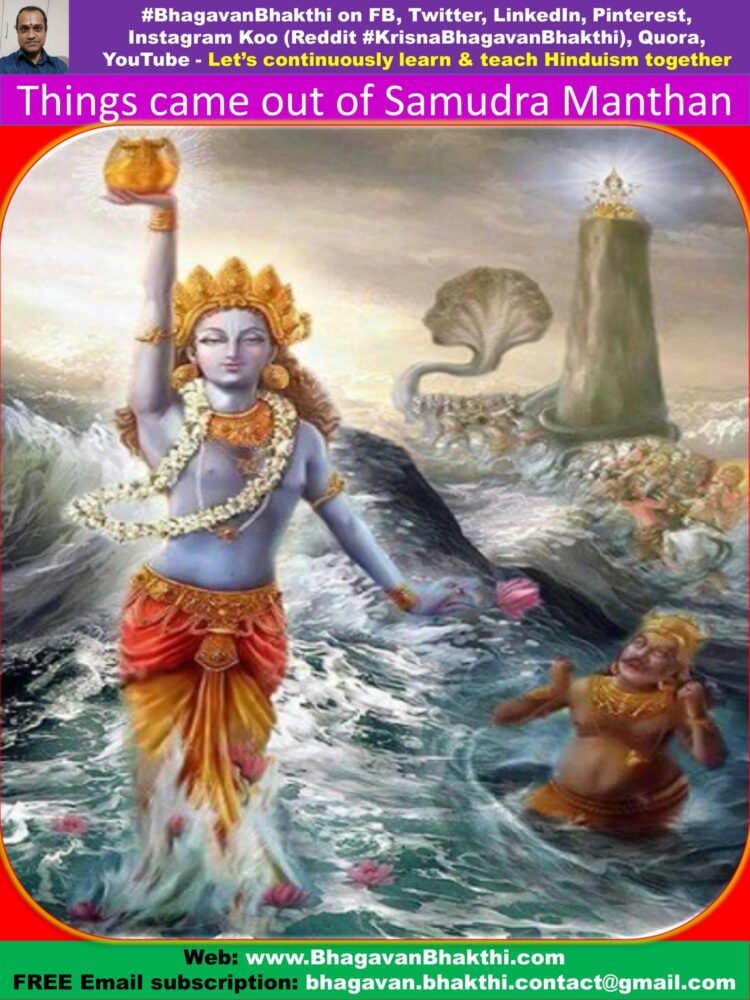 Halahala pashanam : Halahala pashanam (poison) swallowed by Lord Vayu Deva and Lord Shiva. For this reason Lord Shiva's throat becomes Neela (blue) in color and for thus Lord Shiva is also called as Neelkantha.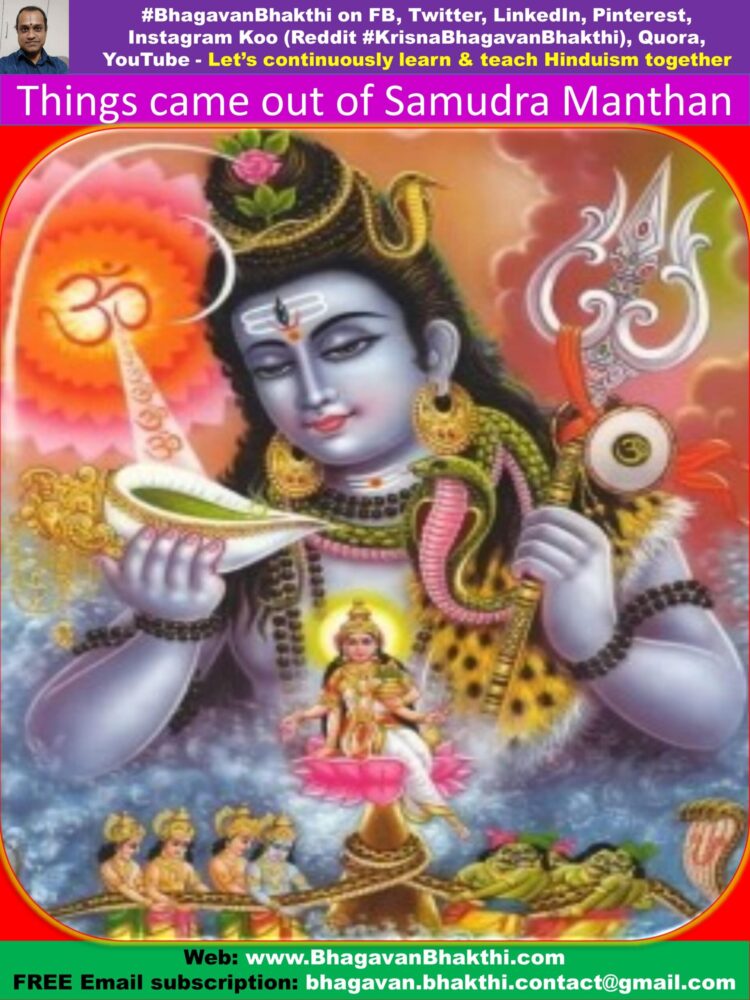 This list varies from one Purana to Purana, and is also slightly different in the Ramayana and Mahabharata also. Lists are completed by adding the following Ratnas:
Panchajanya Shankha : Lord Vishnu's Panchajanya Shankha (conch).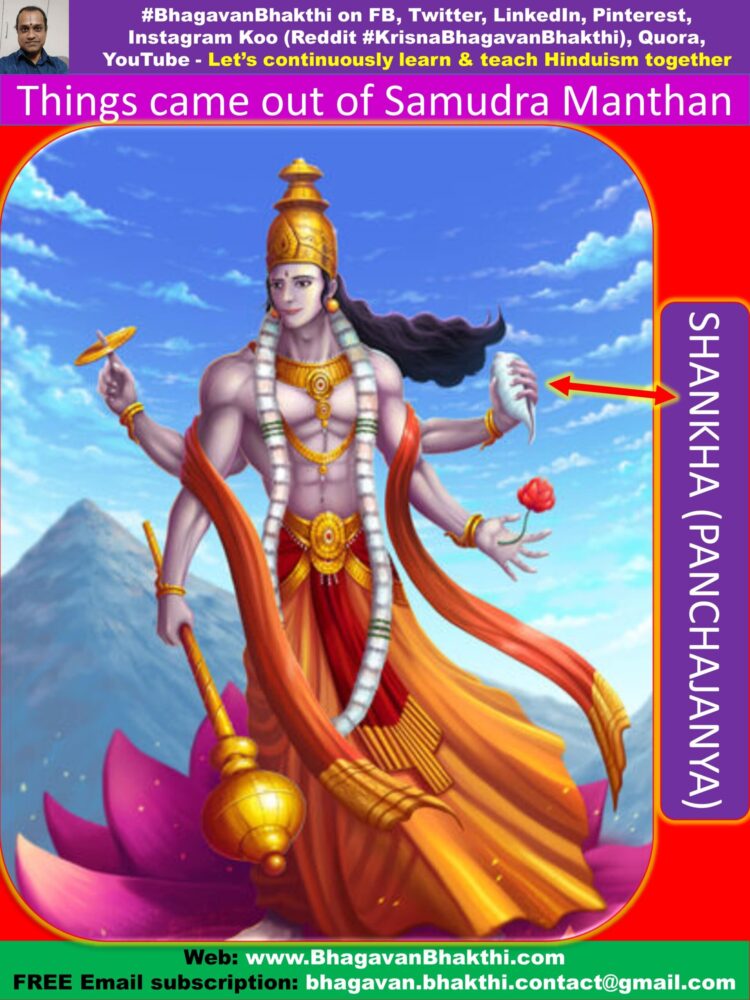 Jyestha (Alakshmi) : The Goddess of misfortune (Alakshmi – Kali Yuga's Kali's wife).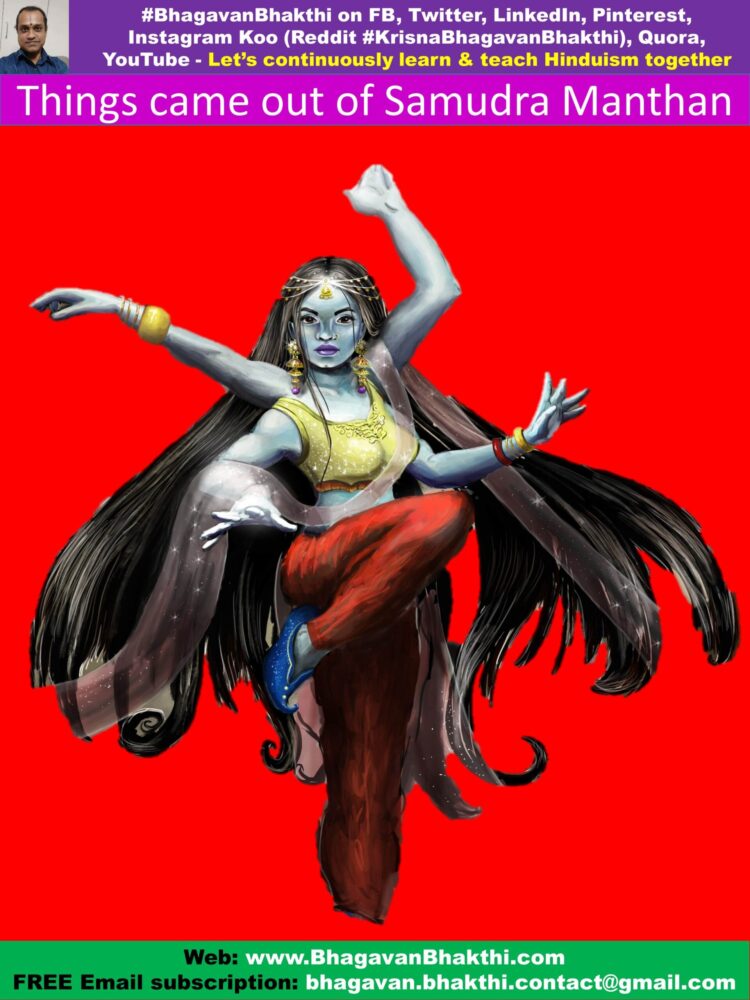 Chhatra : The Chhatra (umbrella) taken by Lord Varuna.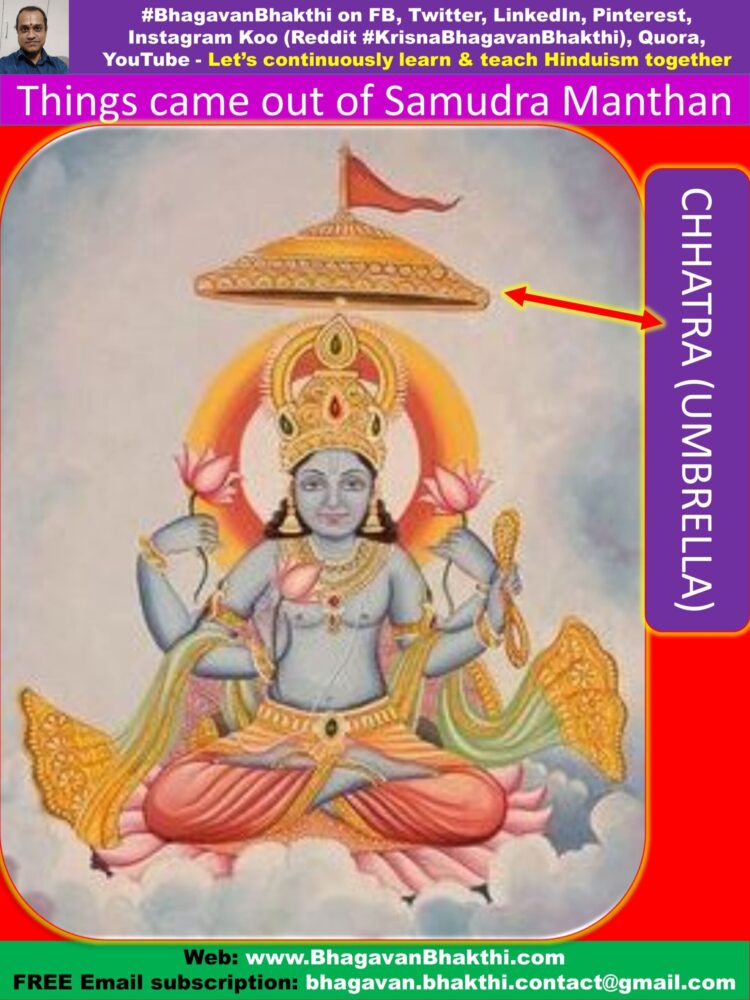 Karna Kundala : Karna Kundal, that is, the earrings given to Aditi Devi (Mother of Devatas / Demigods), by her son Lord Indra.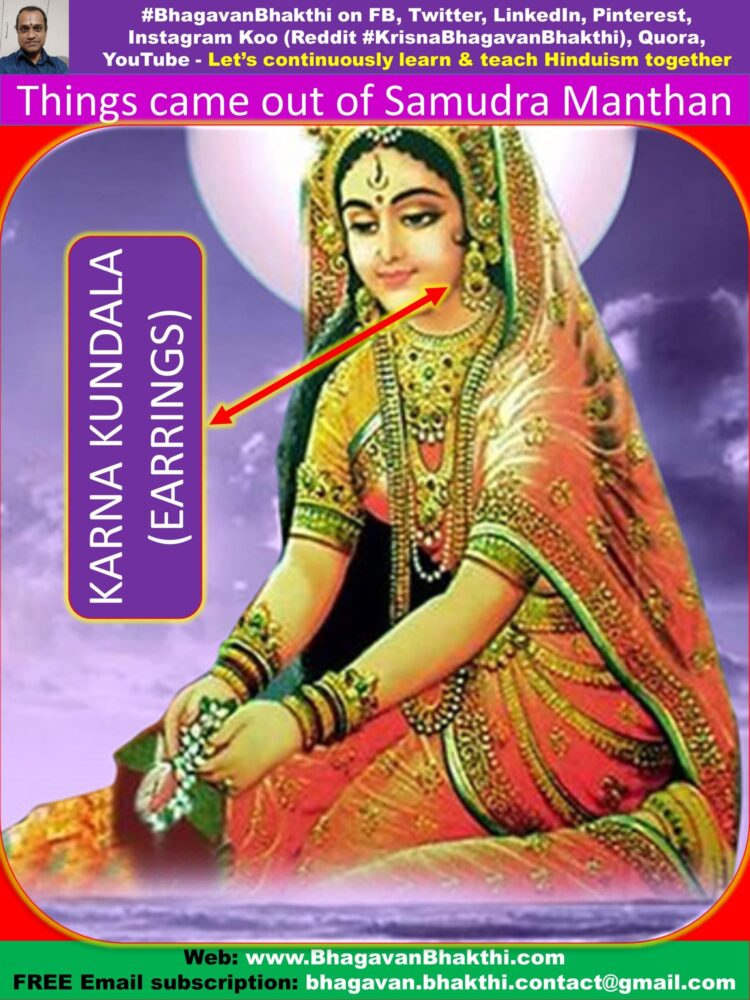 Kalpavriksha : Kalpavriksha, that is, a divine wish-fulfilling tree.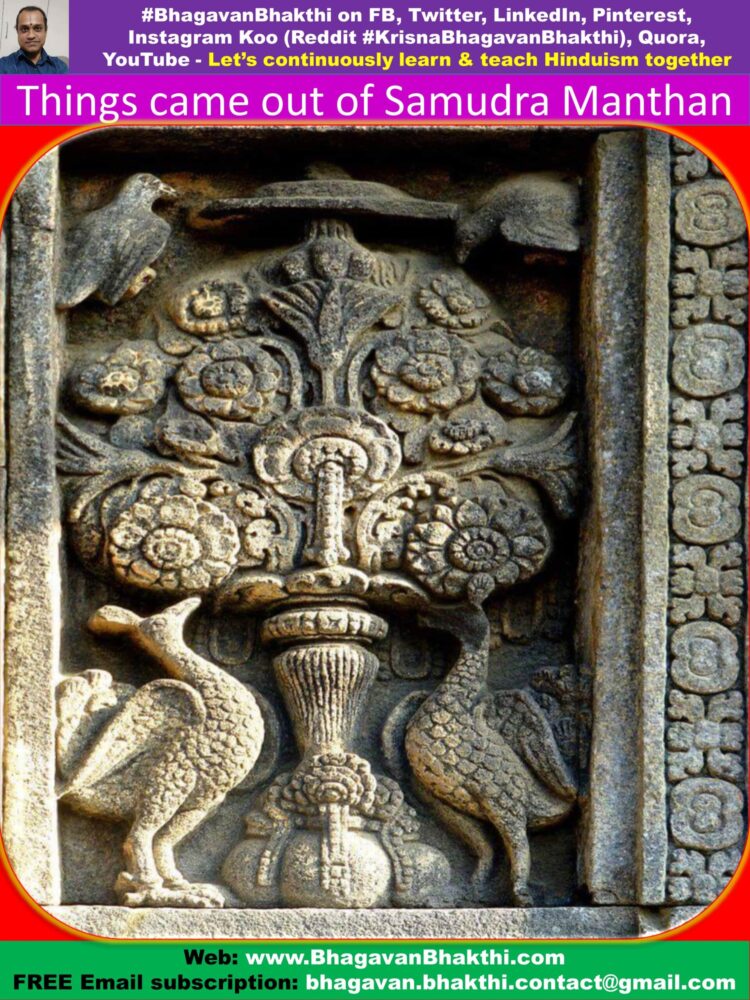 Nidra : Alasya or Nidra or sloth
Amrita : Amrita (Ambrosia) was swallowed by the Devatas (Demigods) and one Asura called Svarbhānu, also known as Rahu and Ketu, who was beheaded and sent into outer space as Rahu and Ketu by Lord Vishnu in his Mohini form.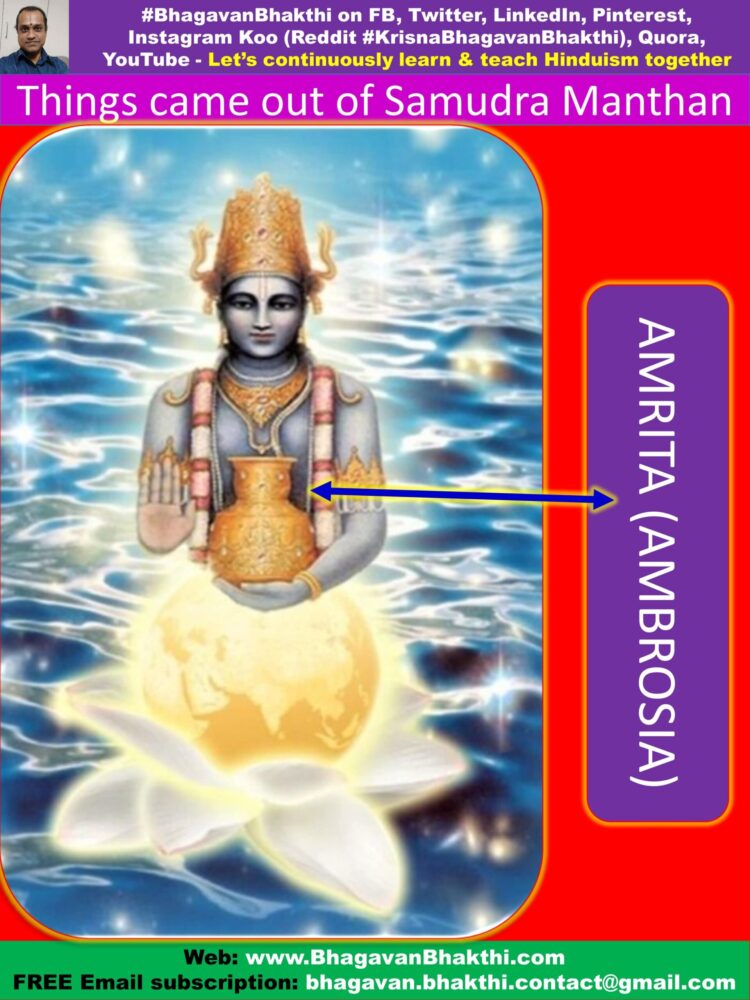 More information will be added to this on the regular basis. Please do visit after some time.
To watch the video about "What all things came out of Samudra Manthan", click the below YouTube video link:
To know more about pilgrimage places in India, visit the below link:
Pilgrimage places in India
To know more about Lord Vishnu, visit the below link:
To know more about Hinduism and Sanatana Dharma, click the below link:
Hinduism (Sanatana Dharma) on Bhagavan Bhakthi website
Dear friends, if you need any clarifications about this post, kindly let me know, I will definitely try to answer all of them.
Also your one LIKE, one COMMENT, One Share, one SUBSCRIPTION is highly important.
This will help to know the quality of this content and also it will be helpful to know if any improvements is required for the content.
If you feel this content is useful to you and has helped you to improve your knowledge, kindly share this with your well-wishers.
Because "SHARING MEANS CARING".
For receive FREE EMAIL SUBSCRIPTION about #BhagavanBhakthi, you can send an email to [email protected] from your email ID.
NAMASTE!

SRI GURUBHYO NAMAHA
OM NAMO NARAYANAYA
Sri Krishnaarpanamastu
Share in Social Media